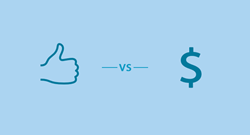 Pittsburgh, PA (PRWEB) March 13, 2014
For many consumers, one of the most difficult household purchases to make is a new mattress. Between hundreds of options, confusing information and a lack of transparency, it can be difficult to differentiate brands or to even know what to compare. Price is perhaps one of the more obvious points of comparison, and there is often the assumption that expensive beds are better.
To put this notion to the test, blog Best Mattress Reviews recently compared several models of cheap and expensive spring and memory foam beds to see whether or not higher costs correlated with higher owner satisfaction. Published March 12, the article "Do Expensive Mattresses Offer Better Sleep?", also explains what factors determine mattress prices and offers tips for prospective shoppers.
Best Mattress Reviews begins by explaining why and how mattress prices can differ from as little as a few hundred dollars to as high as several thousand dollars. Aside from the quality and type of materials used within the bed, the article explains that brand image, brand and retailer pricing policies, and time of year all affect pricing, as can shopping online versus in retail stores.
The comparison sections of the blog contrast top of the line and discount beds from several brands, listing basic specifications, queen-size prices, and the average percent of reviewers who report being satisfied. Information was collected from retailer and brand websites and third party review websites.
Among the innerspring mattresses compared, pricing ranged from $179 to $8120, including models from 10 diverse brands such as Duxiana, Simmons, Serta, and Ikea. Memory foam models ranged from $360 to $7499, spanning 10 brands like Tempurpedic, Sealy, Amerisleep and Spa Sensations. Several models mentioned in Consumer Reports 2014 mattress guide are also included for reference and comparison.
Based on their findings, Best Mattress Reviews points out the mattress brands that offer the highest potential value and satisfaction. Overall, they found that the higher-rated mattresses were typically those that fell within the middle of the price spectrum. The article suggests that shoppers might expect to spend between $1200-$1500 on a good spring mattress or $1200-$2000 on a good memory foam mattress. However, Best Mattress Reviews cautions readers to look beyond price when shopping and offers a few tips for getting the best value. The website also hosts numerous other articles on beds including guides and brand comparisons for interested readers.
BestMattress-Reviews.org is a bed blog dedicated to providing mattress and sleep product information. On the blog, independent industry professionals provide expert opinions and recommendations backed by research and customer reviews. The website aims to make the buying and research process a little simpler by collecting and analyzing information in a digestible, enjoyable format.