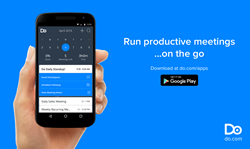 San Francisco, CA (PRWEB) May 03, 2016
Do (do.com), the leading productivity platform for meetings, announced today the release of Do for Android. This complements Do's existing offerings on the web, iPhone, iPad, Apple Watch, and Mac. The new Android app strengthens Do's positioning in the sphere of mobile, automated productivity. Do is an online platform that allows users to take meeting notes, share files, assign tasks, and send out meeting summaries seamlessly.
The mobile app is available as a free download in the Google Play Store starting today.
Do for Android allows people to run productive meetings right from the palm of their hands. It's the fastest and most beautiful way to answer essential questions about the work day, such as "When is my first meeting?", "How much free time do I have?", and "What do I have going on next?". With Do for Android, this information is a single, quick glance away - that always has the most updated information from Microsoft Office 365 and Exchange, Google Apps, or iCloud calendars.
The app provides powerful "Quick Actions" for people's meetings, such as the ability to email the other participants or schedule a followup meeting. Simply by pre-filling the recipients and other content such as the subject, based on the context of the action, Do saves users time and makes it easier to ask "What is the purpose of this meeting?" or to schedule a followup meeting to "Sales presentation brainstorm" for a week from today.
Three billion meetings happen every year in Corporate America alone, and surveys have found that 71% of people find meetings to be unproductive. Last year, Do announced a $2M seed financing from New Enterprise Associates, Slow Ventures, and other leading investors, along with a partnership with Microsoft. The company launched in July 2014 with backing from Sherpa Capital and Salesforce.
Now adopted by over 25,000 companies as the centerpiece of meetings and work productivity, Do has emerged as the leading meeting management solution for knowledge workers. Those who are looking to make meetings more productive can sign up at Do.com.
About Do
Do (do.com) helps people run productive meetings. Founded in 2013 by former Yammer product manager Jason Shah and incubated at SherpaFoundry, Do is backed by NEA, Sherpa Capital, Salesforce Ventures, Slow Ventures, and other top investors. Learn more at Do.com.