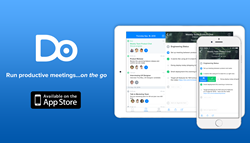 San Francisco, CA (PRWEB) December 09, 2014
Today, Do is extremely excited to announce the release of their brand new iOS app, with support for both iPhone and iPad.
The app is available today in the iTunes App Store for free.
Do knows how crucial mobile is nowadays, with many people now using their smartphones and tablets in meetings, rather than computers.
Now, users can do everything that they love about Do on the web, on mobile, and more!
With the Do app, users can prepare, run, and follow-up easily on all of their important meetings.
They can use all of the core Do features they're already familiar with, such as making and sharing the meeting agenda, writing or dictating meeting notes, marking items as either outcomes or followups, getting automatic meeting summaries via email, and taking private notes alongside the shared notes. In addition, we've added a Quick Search feature. Now users have recent, upcoming, and important meetings all just one tap away!
Do is also introducing a brand new feature with the app: Thoughts.
With the new Thoughts feature, users can record a thought and be reminded of it during the right meeting. Ever have a thought just slip away? Never again. With Thoughts, users can just type or say their thought and have it return to them during the relevant meeting. They just got that much smarter.
Our mobile app supports all calendars - Google Calendar, Microsoft Exchange, iCal, and more. When Do is used on mobile, all of the meetings run from users' phones will also appear on the web. The app does not sync users' entire mobile calendars back to Do on the web.
Thousands of companies use Do to stay on track and run productive meetings. Get started on Do today!