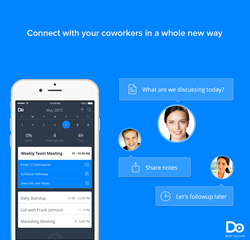 San Francisco, CA (PRWEB) May 21, 2015
Today, Do (do.com) announced the launch of a brand new suite of apps for the Apple iPhone and iPad. Launched in July 2014 to help people run productive meetings, Do has grown to serve more than 7,000 companies, such as Costco and Dominos, with its suite of collaboration products, and is taking the next major leap in mobile productivity with today's announcement.
The new iPhone and iPad apps represent a revamped approach to productivity before, during, and after work meetings. Do (do.com) founder and CEO Jason Shah describes the new apps as a step, "towards automated productivity, beyond and further away from traditional but increasingly difficult-to-use 'facilitated productivity." Specifically, the new app revolves around a concept of instant mindfulness and quick actions to make everyone better at meetings - whether it's meeting less, having shorter meetings, or simply ensuring things get done afterwards.
Specifically, the Do apps make people more mindful in two key ways. Firstly, the Do apps provide real-time stats on an individual's day: percentage of the day that remains, number of upcoming meetings, and amount of free time before the end of the work day. No longer do people have to calculate how far through the work day they might be, or squint for gaps in their calendar when they might be able to get work done between meetings. Secondly, Do automatically expands to highlight the current or most immediately upcoming meeting a knowledge worker has. By simply automating this cognition and presenting it in a mobile interface, Do helps knowledge workers become instantly mindful about their work days.
The Do "Quick Actions" represent the anchor of the new iPhone and iPad apps. For any meeting, now someone is just a tap away from emailing the meeting participants, scheduling a meeting followup, or jotting down meeting notes. Do is integrated with all enterprise calendar systems including Google Calendar, Microsoft Office 365, and iCloud. As a result, when a knowledge worker would like to take an action related to a given meeting, Do is able to streamline the process. For example, if a knowledge worker wants to communicate with colleagues they will be meeting with in the afternoon, a person would have to go through many steps. First, use the calendar to look up who is attending, then open an email client, begin filling in the recipients, then think of a subject line, then compose and send the message. With Do, one can simply tap 'Confirm Meeting' in the morning for a 2pm afternoon meeting, and Do uses artificial intelligence to know the meeting participants (recipients), meeting title and context (subject line), and the sender's intent (message body) to compose and send the entire message for someone automagically. People can select from a range of template messages such as "Confirm meeting" and "What are we discussing today?" or compose a custom message.
Not only can Do's unique access to meeting context be used to message the right people with the right content, but Do can also be leveraged for scheduling a followup. Through extensive research, the Do team has discovered the frequent behavior of knowledge workers to have a meeting and then agree to followup in a predictable, diligent matter of time, such as the following day or week. Using calendar information like attendees and the name of the meeting, e.g. "Sales Kickoff", Do is able to seamlessly schedule a followup for the following week under the name, "Followup on Sales Kickoff". Once again, Do leverages underutilized calendar data in an important work context such as scheduling followups to keep teams accountable and productive.
In addition to revamping the iPhone and iPad apps with real-time stats and powerful quick actions, the Do team is introducing a more robust mobile note-taking interface that allows people to take collaborative and/or private meeting notes tied back to the calendar. All notes can be elevated into meeting outcomes or followups to help people agree on what was discussed and get meaningfully work done after the meeting.
The new Do iPhone and iPad apps follow the widely publicized launch of the Do (do.com) for Apple Watch app in April alongside fellow business apps such as Salesforce, Slack, and others and a prominent role at the Microsoft //BUILD conference in San Francisco. In March, Do announced a $2M seed financing led by New Enterprise Associates, Slow Ventures, and other leading early-stage investors alongside its strategic partnership with Microsoft. With the latest series of products and partnerships that Do has announced, the company is also announcing it has surpassed 7,000 companies and organizations such as Costco, Dominos, and the US government using Do to help them run productive meetings.
For more information, please contact media(at)do(dot)com and visit Do.com.