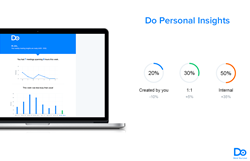 San Francisco, CA (PRWEB) May 18, 2015
Do (do.com), the leading solution for running productive meetings and maximizing knowledge worker productivity, announced today the launch of a brand new product, Do Personal Insights. Do is an online platform that allows users to take meeting notes, share files, assign tasks, and send out meeting summaries seamlessly to save time in meetings and get more done.
Do is determined to help users spend their time efficiently and effectively. Do Personal Insights provides users with a weekly, detailed email outlining how they spent their time, and who they spent it with. The email provides helpful suggestions as well as personalized advice on how to make their time more productive.
The new Personal Insights product highlights Do's mission to ensure time is spent productively. Do founder and CEO Jason Shah explains that, "Time is the most valuable asset for anyone. It's the one thing everyone wishes they had more of but can never have. And here at Do, we know that. That's why the launch of our new Do Personal Insights product will allow individuals of all types to really understand how they're spending their time. Specifically, we want to make sure they're allocating the right amount of time across meetings, creative work, personal time, and more. It's all about the right balance to be productive and maintain work-life balance."
The weekly email also shows users a cross-week comparison, putting users' recently completed weeks in comparison to the most recent week. If users want to know if this week was busier than last, or vice versa, Do Personal Insights has the solution. Users can even get a glimpse at the last several weeks, so they know how their work time is fluctuating, week by week.
The specifics of their meetings and time spent are also outlined; for example, users get an overview of which meetings they created, which were 1 on 1′s, which were recurring, and which were internal within their company or organization.
Along with the email, users receive a helpful takeaway, which is personalized and catered to how their time is currently being spent, offering suggestions on how to rearrange, restructure, or re-prioritize their days.
To learn more about Do Personal Insights, visit do.com/insights/personal.
About Do
Do (http://www.do.com) helps people run productive meetings. Founded in 2013 by former Yammer product manager Jason Shah and incubated at SherpaFoundry, Do is backed by NEA, SherpaVentures, Salesforce, and other top investors. Learn more at Do.com.