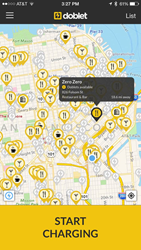 Most people don't like to carry or enjoy remembering to keep their batteries charged. - Doktor Gurson, CEO of Doblet
San Francisco, CA (PRWEB) April 30, 2015
Today Doblet announced the world's first network of batteries on demand for charging phones all across San Francisco. The company also announced its integration with Apple Pay and its redesigned mobile app. Today, consumers already use doblets to charge their smartphones at over 100 San Francisco cafes, bars, and restaurants – soon, at over 1,000 Bay Area venues. The company is adding its doblets to 30 new venues per week.
Users simply install the Doblet iOS or Android mobile app to get instantly notified of the nearest Doblet-carrying locations the moment their batteries start to run low. Unlike with charging stations and lockers, Doblet users can still use their phones while charging. Doblet is also more convenient than buying an external battery case, which makes phones bulkier and heavier.
Battery Life is Consumers' #1 Gripe
Smartphone users consistently rate battery life as their number one problem (see survey by Leapfrog Research, as one of many examples). Despite gradual advances in battery technology, mobile apps and operating systems' power usage continues to rise, outpacing any improvements in battery capacity. Over the past seven years, since the very first iPhone, the net battery life as measured by iPhone standby hours has remained flat (Huffington Post). In only four months of 2014, the 200 most popular apps' power usage increased by an average of six percent (source: Carat, a UC Berkeley power tracking app)
The battery life problem is exacerbated as consumers increasingly watch videos, play games, listen to podcasts, allow multiple apps to track their location, use Bluetooth-enabled accessories and wearables, and keep dozens of apps open – all power draining activities. In addition, smartphone batteries tend to lose their charge more quickly as they age.
"Most people don't like to carry or enjoy remembering to keep their external batteries charged," says Doktor Gurson, co-founder and CEO of Doblet. "And most venues don't have phone battery chargers. Our vision is to have Doblets on nearly every city block, so consumers will always have an easy way to charge their phones while they're out and about."
How Doblet Works, Expansion Plans
Users simply download the Doblet mobile app to their iOS or Android device, to get instantly notified of the nearest Doblet location when their battery is running low. The first charge is free. Each additional charge is $3 good for 24 hours – or a $3 monthly subscription for unlimited charging, which can be more cost-effective and is definitely more convenient than most external battery cases.
Doblet provides all hardware free of charge to venues. The presence of doblets helps to increase venues' monthly revenue as consumers spend money on food, drinks and other items while charging their phones.
There are over 3,500 potential Doblet venues in the San Francisco Bay Area, of which a third have already signed up, and nearly 2 million potential Doblet venues in cities across the country (e.g., cafes, bars, restaurants, hotels, stadiums, airports, Uber and Lyft cars, hotels, and more). Doblet estimates a U.S. market size of $16 billion annually – it plans to expand next to New York, Chicago, Boston, Miami and Toronto.
About Doblet
Doblet is the world's first network of batteries on demand, for charging phones everywhere. The company's mission is to provide mobile portable power, anywhere you happen to be. Using patent-pending technology and the Doblet mobile app on iOS or Android devices, users are instantly notified of the nearest place to pick up a charge, when their batteries are running low. Consumers can charge their smartphones while on the go at over 100 San Francisco Bay Area cafes, bars, and restaurants – and soon at over 1,000 venues. Headquartered in San Francisco and founded in 2014, Doblet's investors include Y Combinator, SoftTech VC, The Orange Fund, and GMO VenturePartners. For more information, visit http://www.doblet.com.