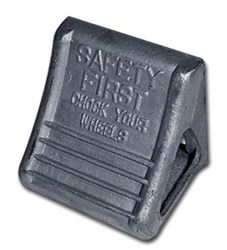 Wheel chocks are vital when ordering dock equipment. It keeps everyone safe. Safety first is one of the mottos at A Plus Warehouse
Salt Lake City, Utah (PRWEB) August 09, 2013
What is the best time of the day? A Plus Warehouse knows that the best time of day is product of the day time. It is very fun to introduce potential customers to exciting products. A Plus Warehouse offers such a wide variety of items so its nice to narrow it down to one item sometimes. Today's product of the day is the Safety Wheel hock. According to Ed Stairman president of A Plus Warehouse, " Wheel chocks are vital when ordering dock equipment. It keeps everyone safe. Safety first is one of the mottos at A Plus Warehouse." As Ed mentions, wheel chocks are very important for safety. The Safety Wheel Chock happens to be the safest one the company offers.
Using dock equipment is a dangerous job. A Plus Warehouse, however, would like to minimize the chance of injury. Many times, warehouse managers overlook wheel chocks. Wheel chocks after all are a small part of a big operation. However, customers need to remember that every part counts. Every measure of safety counts. When dealing with heavy equipment, safety should always be the first priority. When operating heavy machinery like forklifts, people often get severely injured. Disaster occurs when a vehicle being loaded or unloads shifts. Wheel chocks prevent this problem. They lock vehicle wheels. Wheel chocks are so vital that it is an OSHA requirement that trucks have their wheels chocked at all times. For additional safety, customers should also consider automatic trailer locks. With this item, a truck backing up to the lock causes a clamp to be deployed grabbing the trucks ICC bar. This does not require any human intervention. Ordering all of this is very inexpensive so customers often look over it. Even though it is inexpensive it is still extremely important for any dock equipment operation. Safety should always be the first priority.
As mentioned earlier, the product of the day is the Safety Wheel Chock. This product is designed for maximum traction on any surface. It is among the best wheel chocks the company has to offer. This wheel chock also features a grip slot for easy pickup and positioning. A Plus Warehouse hopes that this article helped customers realize the importance of wheel chocks. Order one today.
A Plus Warehouse is the operator of http://www.apluswhs.com and distributes materials handling and storage equipment nationwide and throughout Canada. The sales staff at A Plus Warehouse is available at 800-209-8798. A Plus Warehouse has been in constant operation since 1996.