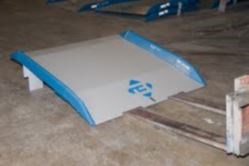 The easy to use dock board isn't just like any old dock board. It is updated, the new and improved dock board
Raleigh, North Carolina (PRWEB) September 12, 2013
It is always exciting for A Plus Warehouse to announce a product of the day. Today additional excitement is going to be added to the product of the day. This is because the item is a new product! Who ever is familiar with A Plus Warehouse knows that the company is constantly updating their products. New products keep the site new and exciting. A Plus Warehouse offers many products. This is also a reason A Plus Warehouse has product of the day. The product of the day is meant to bring attention to a particular item. Today's product of the day is the easy to use dock board. According to Ed Stairman, president of A Plus Warehouse, " The easy to use dock board isn't just like any old dock board. It is updated, the new and improved dock board."
This item falls under the dock board subsection of the dock equipment section. A Plus Warehouse specializes in the distribution of dock equipment. The company distributes well-known and trusted names such as Vestil, Bluff, Magline, and various others. Obviously, dock equipment is needed for any loading dock system. There is no better place to get dock equipment than at A Plus Warehouse. The company has a large variety of dock equipment items. These items range from dock plates to even wheel chocks. Many companies do not sell wheel chocks because of how inexpensive they are, but at A Plus Warehouse the company offers anything a customer may need.
As mentioned earlier, today's product of the day is a special type of dock board. Dock boards are extremely important for the overall safety of a loading dock. The easy to use dock board just made the job that much safer. The product is designed with slots in the front. This allows forklifts a great access point. Lifting from the front makes loading and unloading much simpler. This item is actually the only ANSI tested portable board on the market. The capacity of this board ranges between 10,000 and 25,000 pounds. Customers should consider ordering one today. Fore more questions customers should talk to A Plus Warehouse's friendly sales people. The company realizes that every customer has different needs and is ready to satisfy those needs.
A Plus Warehouse is the operator of http://www.apluswhs.com and distributes materials handling and storage equipment nationwide and throughout Canada. The sales staff at A Plus Warehouse is available at 800-209-8798. A Plus Warehouse has been in constant operation since 1996.