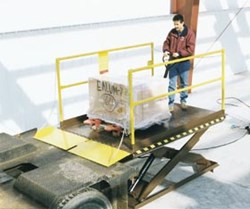 All customers need dock equipment. Every loading dock needs a dock lift, so order yours today
New York, New York (PRWEB) August 30, 2013
So after the people at A Plus Warehouse grab a coffee and settle in, they decide what the product of the day will be. It is very difficult to choose a product of the day. A Plus Warehouse offers such a wide variety of products. A Plus Warehouse's product of the day is normally a product that the company feels deserves more attention. Today's product of the day is the hydraulic dock lift. According to Ed Stairman, president of A Plus Warehouse, " All customers need dock equipment. Every loading dock needs a dock lift, so order yours today."
As Ed mentioned, almost all customers need dock lifts. A customer may need a dock lift when there is a big height differential between the dock and truck. Many times a dock board or dock plate simply will not be able to handle the job. In these cases a customer needs a dock lift. Another alternative is to handle the boxes by hand. This might work for a few lightweight boxes a day, but when a person is dealing with many heavy boxes not so much. Not only is this inconvenient, but it can lead to back pain or other serious injuries. The Hydraulic Dock Lift is available nationwide with value pricing. This product is ideal for loading and unloading trucks without a dock as well. The product is engineered for ultimate safety and efficiency. Safety is always the first priority at A Plus Warehouse. This item features an emergency automatic stop if line breaks. A Hydraulic Dock Lift is pictured to the right.
Customers should remember that a dock equipment system is very important. A Plus Warehouse knows their dock equipment. The company has been in the business for years. The company is very helpful to customers. Many times customers aren't completely sure what they want. A Plus Warehouse navigates them through this process. A Plus Warehouse sells anything a customer may need for that system. Dock equipment sold at A Plus Warehouse includes, dock boards, dock plates, wheel chocks, dock levelers, and a variety of other products. It is very important to have a safe dock system. Customers should consider ordering dock equipment from A Plus Warehouse today.
A Plus Warehouse is the operator of http://www.apluswhs.com and distributes materials handling and storage equipment nationwide and throughout Canada. The sales staff at A Plus Warehouse is available at 800-209-8798. A Plus Warehouse has been in constant operation since 1996.