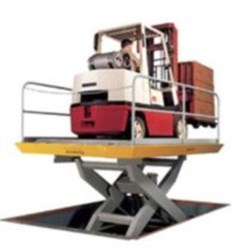 A Plus Warehouse is proud to add the heavy duty dock lifter to our impressive list of dock lifters.
Boston, Massachusetts (PRWEB) September 09, 2013
It is exciting for A Plus Warehouse to pick the product of the day. Today, that process is even more exciting. This is because today's product of the day is a new item. A Plus Warehouse enjoys adding new items to the website. This keeps the company fresh and new. A Plus Warehouse changes right along with the times! This is also why A Plus Warehouse offers so many different items. The company is addicted to new products. A Plus Warehouse proudly announces the heavy duty dock lifter as the product of the day. According to Ed Stairman, president of A Plus Warehouse, "A Plus Warehouse is proud to add the heavy duty dock lifter to our impressive list of dock lifters."
As Ed mentioned, A Plus Warehouse already stocks an impressive collection of dock lifts. To add on to this statement, customers are also often impressed by A Plus Warehouse dock equipment in general. A Plus Warehouse sells several types of dock equipment including but not limited to dock plates, dock boards, wheel chocks, dock levelers, dock seals and various others. A Plus Warehouse has been in the business of selling dock equipment for many years. Dock lifts are one of the many lines available in the dock equipment section.
Every loading dock needs a dock lift. It is a necessity for any docking system. Many times a dock board or dock plate alone is just not enough. Hand lifting is always an option, but that can cause damage to employees. Dock lifts in this situation are the best option. The heavy duty dock lift is obviously used to lift heavy objects. The product has a 20,000 pound capacity. It is shown to the image on the right. The item also includes maintenance strut to support lift during maintenance and removable lifting eyes for easy installation. It also is weatherproof. This item is also extremely safe, meeting or exceeding all safety measures. The product has excess flow protection for controlled descent. It also has an adjustable lowering time with flow control valve. For more information, customers should contact friendly A Plus Warehouse sales people. Customers should consider ordering this product today.
A Plus Warehouse is the operator of http://www.apluswhs.com and distributes materials handling and storage equipment nationwide and throughout Canada. The sales staff at A Plus Warehouse is available at 800-209-8798. A Plus Warehouse has been in constant operation since 1996.