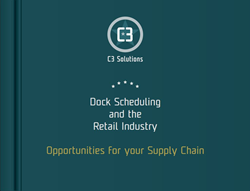 It is referred to by different names; dock scheduling, appointment scheduling, bookings, or time slotting – yet retailers worldwide share similar challenges related to planning loads in and out of their warehouses.
(PRWEB) June 16, 2014
C3 Solutions, a provider of software solutions dedicated to the area of yard management and dock scheduling announces the release of its latest eBook entitled Dock Scheduling and the Retail Industry – Opportunities for your Supply Chain.
Retailers were among the early adopters of a dock appointment scheduling process; enforcing a disciplined schedule.
The challenge is that most have not modernized their process in decades beyond replacing the phone calls with emails and paper calendars with spreadsheets.
With the incessant pressure on reducing supply chain costs, warehouses are looking to reduce the labour hours spent on scheduling, obtain better visibility via KPIs, as well as reports for on time arrivals and unloading duration in order to make their receiving and shipping operations more efficient.
The purpose of this eBook is to provide valuable insights which retailers can relate to, whether they perform traditional inbound scheduling to a distribution center, inbound to stores or outbound pick-ups.
Find out how an automated dock scheduling system solves the dock scheduling madness in the Retail Industry.
The ebook is available for free download here:
http://www.c3solutions.com/lp/dock-scheduling-and-the-retail-industry/.