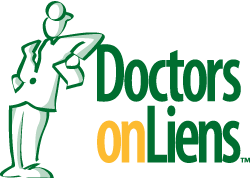 Los Angeles, CA (PRWEB) May 04, 2014
Doctors on Liens™, the leading network of qualified medical professionals specializing in med/legal evaluations and treatments for personal injury and workers' compensation cases, has continued its steady growth in early 2014. The new medical offices include medical specialties and locations highly requested by attorneys.
The Doctors on Liens™ network has been an invaluable resource to legal professionals for over twenty years and is widely known for their famous directory. And while the new directory is more valuable than ever, attorneys and their staff are increasingly turning to the easy to use website and mobile app as well to help their clients find the treatments they need.
While over 80% of Doctors on Liens™ offices have been with them for ten years or more, the company continually adds specialists and specialties to their ever-growing vast network. In the latest directory alone, you'll find 15 new medical offices located throughout Southern California including:
Rodrigo Sanchez, D.C. and Kinan Hadaya, D.C. in Canyon Country, CA
Performance Care Chiropractic and Sports Medicine in Toluca Lake, CA
Parehjan, Vartzar & Khosrovian Chiropractic in Hollywood, CA
Redondo Beach Chiropractic in Redondo Beach, CA
Pledge Medical Multispecialty Medical Group in Newport Beach, CA
Balboa Surgery Center in Newport Beach, CA
Crown Valley Outpatient Surgical Center in Mission Viejo, CA
American Multispecialty Medical Clinic in Mission Viejo, CA
Greenberg Chiropractic in Costa Mesa, CA
OC Physical Therapy in Irvine, CA
OC Physical Therapy in Mission Viejo, CA
First Hope Medical Clinic Multi-Specialty Practice Group in Riverside, CA
Richter Chiropractic in Rancho San Diego, CA
Cruz Chiropractic Care in Oceanside/Vista, CA
Herring Chiropractic in Rancho Bernardo/Poway, CA
In response to requests from attorneys, the network now includes more medical specialists working on a lien basis including Orthopedic Surgeons, Neurosurgeons, Pain Management Physicians, Plastic Surgeons, Physical Therapists and more.
Says, Doctors on Liens, Inc. President, Samantha Parker, "The personal injury and workers compensation world is ever changing and so is the focus of our network. Attorneys are asking for specific medical specialists, and while those are very hard to find, our mission has always been to connect attorneys and their clients with the necessary doctors working on a liens basis."
To maintain the trust of thousands of attorneys, Parker holds each and every doctor to an impressive standard. Parker continues, "Each doctor must be practicing for at least five years and be referred by another doctor or medical/legal office of high standing. All offices are pre-screened and pre-qualified to ensure attorneys know they are working with a highly regarded medical professional."