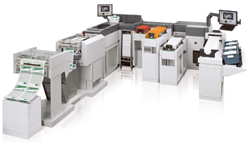 The acquisition of these two new machines keeps us firmly at the forefront of our sector
(PRWEB UK) 17 February 2015
Industry leading document management company, Prime Document Ltd, has today announced the acquisition of two new state-of-the-art intelligent enclosing systems, raising their document output rate to a staggering 55,000 documents per hour.
Not only are the new machines bigger and faster, inserting 26,000 documents in to 12,000 envelopes per hour, but the two new Neopost DS-1200's are also smarter, mounted with impressive intelligent camera technology.
Able to read a range of OMR, BCR, 2D and OCR label formats, the new DS-1200's will further consolidate Prime Document's excellent reputation for document integrity.
Utilising sophisticated integrity checking and logging automation software, this latest investment in production facilities further bolsters Prime Document's reputation as the sectors most diligent service supplier.
Commenting on this latest investment, Managing Director Simon Thompson said:
"The acquisition of these two new machines keeps us firmly at the forefront of our sector. Not only has our output capacity significantly increased, but we have also reinforced our reputation for document pack integrity."
Adding...
"This latest configuration of our print facilities gives us much more flexibility on our production runs. Because we're able to use up to 4 insert hoppers on each machine, we can run multiple jobs at the same time, whilst still maintaining flawless package integrity levels."
For Prime Document, this is just another part of the bigger picture:
In 2012 the company acquired an additional 6,000 sq ft of adjoining work space
2013 saw a significant investment and expansion of IT and customer service teams
2014 technical IT team relocated to newly acquired office space
Now in 2015 this increased operating space is to be filled with industry leading production machinery
"We are a progressive company, focused on delivering sustainable growth through diligent planning. By providing our clients with a range of cost saving document processing services, we have retained a loyal customer base. We constantly pursue excellence and this latest strategic investment backs-up our company's approach and principles." Deborah Thompson - Financial Director, Prime Document Ltd said.
About Prime Document:
Established in 1999 to provide secure and reliable critical document production and distribution services, the document management company have continued to demonstrate a quality of service and return on investment that businesses find hard to ignore.
Working with leading brands and blue chip organisations, Prime Document have a rich heritage and impressive portfolio of customers including; LeasePlan, L'Oreal, Johnson & Johnson, Jardine Lloyd Thompson and Rentokil Initial.
Operating from Park Seventeen Industrial Estate in North Manchester, Prime Document are ideally situated between the M1 and M6 motorways, just 30 minutes from Manchester Airport.
Prime Document Ltd have been awarded the highest accolade possible by their ISO Customer Satisfaction consultants: The Diamond Award, achieving 95% customer satisfaction levels.
For more information about Prime Document, visit their website at: http://www.primedoc.co.uk
Prime Document Limited
Unit 3, Park Seventeen, Moss Lane, Whitefield
Manchester. M45 8FJ
Tel: 0161 766 5544 | http://www.primedoc.co.uk