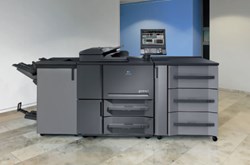 We're continuing to experience progressive, measured and steady growth.
Urmston, Manchester, UK (PRWEB UK) 1 October 2013
Prime Document are no stranger to business growth. During 2011 the e-billing solutions company increased turnover by 33%, the following year they increased operational capacity by 75%.
This year the flourishing document management company has unveiled new print production facilities, invested in cutting-edge print technology and bolstered their team of specialist technicians with a number of key appointments.
Commenting on their key moves this year Managing Director Simon Thompson said:
"We're continuing to experience progressive, measured and steady growth. With the acquisition of new clients comes a requirement to increase production out-put. Our new 6,000 sq feet production hub, fitted with the latest Konica Minolta bizhub PRO 1052's, significantly increases throughput rates and pushes our print quality even higher."
Prime Document IT and Technical Director, Lee Rowlands added:
"The addition of three new bizhub PRO's is a further indication of our commitment to print excellence. Their processing power and 1200 dpi print quality means we're able to output extremely high quality documents quickly and efficiently. Our clients receive the best possible service at the most economical price."
In addition to the arrival of their new high-end print technology, the mailing fulfilment company have brought in a number of key appointments to bolster their team of data analysts, technicians, account managers and administration staff.
Commenting on the new appointments Financial Director, Deborah Thompson said:
"We have hand-picked a number of key staff to join us so far this year. The work that we do here requires a range of skill sets and job roles, but it is a candidates commitment to maintaining our 95% customer satisfaction level that makes them stand out from the rest.
We've added to our team of data analysts, who take care of client data processing. New members join our customer service department and we have also bolstered our administration team. We're all looking forward to continued success, business growth and further enhancing client satisfaction levels."
More about Prime Document
Established in 1999 to provide secure and reliable critical document production and distribution services, the document management company have continued to demonstrate a quality of service and return on investment that businesses find hard to ignore.
Working with leading brands and blue chip organisations, Prime Document have a rich heritage and impressive portfolio of customers including; LeasePlan, L'Oreal, Johnson & Johnson, City Link and Adidas.
Operating from Park Seventeen Industrial Estate in North Manchester, Prime Document are ideally situated between the M1 and M6 motorways, just 30 minutes from Manchester Airport.
For the sixth year running Prime Document Ltd have been awarded the highest accolade possible by QMS International BenchmarQ: The Diamond Award, achieving 95% customer satisfaction levels.
For more information about Prime Document, visit their website at: http://www.primedoc.co.uk
Prime Document Limited
Unit 3, Park Seventeen
Moss Lane, Whitefield
Manchester.
M45 8FJ