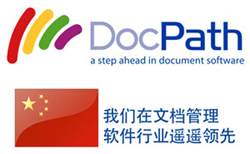 Entering the Asian market was a logical and crucial step in DocPath´s expansion strategy, and DocPath plans on continuing its efforts in the region via new Asian business partners
Atlanta, GA (PRWEB) January 27, 2015
DocPath, a leader in document management software, is in pursuit of international growth. In line with this strategy, in 2013, DocPath translated its Website into Chinese, http://www.docpath.com/zh/, and the software was recently adapted to also meet the specific needs of Asian clients. As a result, last month, DocPath successfully completed the first implementation of its document management software in Hong Kong.
Enhancements to Meet Asian Market
DocPath has added a wide range of improvements to its Areca solutions, DocPath´s line of document management solutions powered by Ipanema Technology. The main goal of DocPath Areca solutions is to bring the tasks related to the design, management and generation of documents within the reach of all types of users. Therefore, DocPath has made sure to provide its latest document management system with visual, user-friendly and appealing interfaces. One of the main enhancements geared towards Asian clients is the software´s compatibility with Asian characters. Now, DocPath´s document management solutions successfully display, process and generate documents in a variety of Asian languages, such as traditional and simplified Chinese, Japanese and Korean. This was one of the key features that led to the Hong Kong project.
Other enhancements added to DocPath´s document management software are geared towards further optimization of the software to ensure full performance on any operating system, whether it be Windows, Unix, IBM i, or any another system, as well as improvements to the software´s integration capabilities with ERPs, such as SAP, JD Edwards, etc. As such, the recent implementation in Hong Kong was successfully performed on System i operating systems and involves multilanguage files from Oracle® JD Edwards Enterprise One.
"Entering the Asian market was a logical and crucial step in DocPath´s expansion strategy, as Asia´s vast territory and expected ICT growth rate offer a wide range of opportunities. DocPath plans on continuing its efforts in the region via new Asian business partners," states DocPath´s President and CEO, Julio Olivares.
A Technological Superpower
Some decades ago, China became one of the new technological superpowers within the global economy. However, as time passed, this Asian superpower has found a new position in the ICT sector by gradually moving from being the world´s biggest factory to one of the dominant players in the technological market.
With almost 1,4 billion inhabitants, China is the most populated country in the world. Over the last years, this giant has become the main producer and consumer of technology. Experts state that its impressive growth will slightly decelerate in the next decade, because of the structural transformation of its economy, but it will definitely not stop to increase. According to a forecast by IDC, its ICT market will increase with about 7% this year. Figures also suggest that the Chinese will spend as much as US$1,05 billion on technology, which turns China into the third most consuming country in the world, after the USA and Japan.
About DocPath
DocPath is a leading document management software manufacturer. Founded in 1992, its headquarters is located in Madrid, Spain, with two other design and development offices. DocPath solutions are found in companies all over the world. Among its international customers are prestigious banks and first-class corporations, which are aided by DocPath solutions by simplifying the complicated and critical tasks involving design and the distribution of documents. DocPath maintains a strong commitment to R&D&i, an area that receives a good amount of its revenue, and in which lies the key to the company´s success.
For more information, visit http://www.docpath.com or the chinese version, http://www.docpath.com/zh/
DocPath is a registered trademark of DocPath Corp. All rights reserved. Other trademarks may be the property of their respective owners.