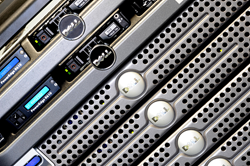 This re-investment into our on-site digital capabilities is a further example of our commitment to delivering cutting edge solutions
Manchester, UK (PRWEB UK) 16 April 2015
Prime Document have long championed conventional document management and business processing services for their corporate clients. But this passion for print and post has never deterred their management team from investing in the digital evolution.
As their revolutionary 'ecco' range of digital document management services has continued to grow from strength to strength, the need to expand their on-site IT facilities has been constantly matched by the teams diligent foresight.
The new comms facilities unveiled at Prime Document's Manchester based headquarters boast the latest advances in technology and represents a inward investment of £55,000. The facility has been designed to utilise the sophisticated cooling and air flow systems along with a focus on security, power integrity and fire security measures.
Working along side their "infinity" business continuity system, this latest investment from Prime Document covers all the bases for the pioneering document management company.
Commenting on the unveiling, Technical Director Lee Rowlands said:
"Over the past 10 years we have continued to bring new and innovative digital solution to our clients. These services significantly reduce time and cost factors due to their digital format and immediate delivery channels."
Adding...
"Whilst our current service delivery schedule is still split 50/50 between print and digital format, the trend will only continue toward electronic document management. This re-investment into our on-site digital capabilities is a further example of our commitment to delivering cutting edge solutions."
Through their "ecco" range of services, Prime Document Ltd offer clients a transitional process away from the printed invoice or financial document. With email and mobile communications becoming the staple diet of corporate financial departments, Prime Document are well placed to exceed expectations.
Managing Director Simon Thompson points out Prime Document's strategic thinking on e-document management.
"Clients and associates will know all too well that we have continued to re-invest in our digital strategy. We're not a company that is stuck in the mud, rather, we see this change in the market place as a significant opportunity to succeed."
About Prime Document:
Established in 1999 to provide secure and reliable critical document production and distribution services, the document management company have continued to demonstrate a quality of service and return on investment that businesses find hard to ignore.
Working with leading brands and blue chip organisations, Prime Document have a rich heritage and impressive portfolio of customers including; LeasePlan, L'Oreal, Johnson & Johnson, Jardine Lloyd Thompson and Rentokil Initial.
Operating from Park Seventeen Industrial Estate in North Manchester, Prime Document are ideally situated between the M1 and M6 motorways, just 30 minutes from Manchester Airport.
Prime Document Ltd have been awarded the highest accolade possible by their ISO Customer Satisfaction consultants: The Diamond Award, achieving 95% customer satisfaction levels.
Prime Document Limited
Unit 3, Park Seventeen, Moss Lane, Whitefield
Manchester. M45 8FJ
Tel: 0161 766 5544
http://www.primedoc.co.uk