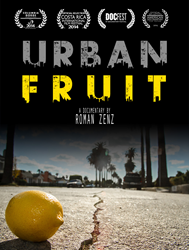 "To forget how to dig the earth and tend soil is to forget ourselves." - Mahatma Gandhi
Los Angeles (PRWEB) June 10, 2014
The city of Los Angeles, California was originally built on farming. In the 1920's, Citrus groves flourished and stretched for miles, due to LA's rich soil and prime growing conditions. Then, post WWII, the changing zoning laws and increased land prices pushed the agricultural industry far from the city center.
In today's America, many citizens have a disconnected relationship with their food, where it comes from, and what is in it. However, a revolution is occurring, where many are taking back control of what they choose to consume, by reclaiming a skill that has been lost to the industrial food machine: growing their food themselves.

RON FINLEY: Ron Finley lives in South Central L.A., a food desert, where people don't have an alternative to fast food. Ron decided to address this issue by teaching people how to grow food in front of their homes, which unbeknownst to him, was a violation of the city code. Ron fought back and became an internet sensation in the process.
RISHI KUMAR: Rishi Kumar gave up a promising career in Information Technology in order to move back in with his parents and start an urban farm in their backyard. Much to the dismay of most of his traditional Indian-American family.
ADAM AND JENNA BARBER: Adam and Jenna Barber are a young hipster couple growing vegetables and raising chickens in Mid-City, Los Angeles. The love they discovered for their garden ultimately intensifies their love for one another.
ABOUT THE FILMMAKER: Roman Zenz is a German Filmmaker living in Los Angeles. After doing research on the subject of urban farming, Roman discovered a large number of Angelenos who felt that they were missing a connection to their food, and were making significant lifestyle changes in order to find it. They were the inspiration behind URBAN FRUIT. This is his second feature length documentary film.
WHAT:
The Los Angeles Premiere of Urban Fruit, a documentary by Roman Zenz, in support of the Beit T'Shuvah Organic Garden Program
WHEN:
Saturday, June 14th, 2014 at 7pm
WHERE:
Beit T'Shuvah- 8831 Venice Blvd. Los Angeles, CA. 90034
http://www.beittshuvah.org/events/URBAN-FRUIT-DOCUMENTARY/
FOR MEDIA INQUIRIES, PLEASE CONTACT:
Tracie May-Wagner
May-Wagner Public Relations
Tracie(at)May-WagnerPR(dot)com