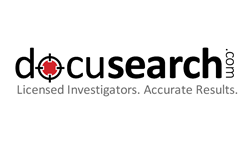 It's all about providing customers with what they want, and that's exactly what Docusearch does.
(PRWEB) October 21, 2013
As a Forbes Favorite, Docusearch strives to ensure its industry continues moving forward toward a progressive, successful tomorrow. The company does this by pushing their website ever closer to the modern standard of advanced web technology. The company recently announced the renovation of its checkout system. The new system will allow faster, more efficient checkouts for frequent customers, such as those who use the popular license plate lookup service, so as to ensure individuals have a streamlined experience.
More importantly, Docusearch is also improving their checkout interface design, which includes a mobile-friendly accessible layout. People are now accessing websites more via mobile devices, and having the ability to order an investigative search while on the go can help expedite the process. After all, being in a courthouse or away from a computer, but in need of, say, a license plate lookup search, the mobile-friendly layout makes it possible to use Docusearch's website from any device.
"We wanted to make sure people had the ability to see our site from anywhere. And we wanted people to have a faster checkout process. It's all about bringing people up to speed, and bringing our website up to speed, too. We live in a go-go-go age and people crave efficiency, and knowing that we can deliver on that craving, well there's nothing better. It's all about providing customers with what they want, and that's exactly what Docusearch does."
By giving people an easier time with their website, Docusearch is helping bring the company into the technological spotlight of today's advanced age. It proves that the company cares about their electronic presence, and that they have the know-how and abilities to stay up with the times. They are a company that cares about their image and the services behind that image, and their new checkout process keeps customers happily chugging along. Whether someone wants secure information or even a license plate search, Docusearch's new layout makes it faster and easier.
"Specializing in investigative technology means we have to keep up with the way things work. We have to keep producing better and more efficient systems, and these systems always have to ensure the customers have a better experience. It's something we strive for, and it's something that we want to keep achieving. Too often companies get comfortable - that's not what we're about. We want to find ways to push ourselves further. This is simply the latest way."
The company does not specifically know the date when the redesign and new system will roll out, though they are happy to provide the vague statement of "soon." Once the updates are fully implemented, Docusearch will release information through their redesigned site.
To keep an eye out for Docusearch's updates, or to learn more about the company, please go to http://www.docusearch.com.