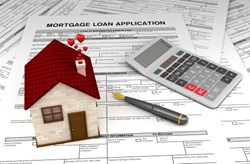 There will be a new role for Realtors® in that they will want to sit down to talk finances with their clients before the excitement of house hunting begins.
Columbia, MD (PRWEB) December 17, 2013
For would-be mortgagees who don't get a loan application in by January 10, 2014, the process of acquiring such home financing is about to get more complex. The McKenna Group of WEICHERT, REALTORS® – New Colony in Columbia, Md., reports that the implementation of sections 1411 and 1412 of the Dodd-Frank Act will require home buyers to pass a more rigorous set of mortgage qualifications than in previous years, and that mortgage lenders will be held responsible if they and their clients don't adhere to the new laws.
"These laws will change the market for Realtors®, sellers and buyers," says Scott Berngartt, a mortgage broker based in Ellicott City, Md., who works for George Mason Mortgage, LLC. "With these new laws, the biggest impact to home buyers is that they won't be able to qualify for as much house as they have in the past."
Berngartt warns, "Potentially, fewer buyers will qualify for loans, and selling will be especially challenging for the move-up buyer. If the first-time homebuyer can't qualify for as much as they did before, they will have to seek homes with lower prices. Homes will have a much more difficult time appreciating, which means that move-up buyers may not be able to sell their current homes for enough to move to the next home."
But what does this new set of regulations — the aim of which is to protect both borrowers and lenders — specifically entail? One of the most vital components is referred to as Ability-to-Repay (ATR). This is essentially a list of eight types of information that a lender must gather and review with a potential buyer and check off before approving that buyer, so that loans are not handed out irresponsibly. The ATR checklist includes:

Employment and other income-based assets that will figure into loan payments.
Employment status (if home loans are not being paid solely through other assets).
Outline of monthly payments on the mortgage.
*Monthly payments on other mortgage-related costs such as a home equity line of credit (HELOC).

Any added components of the borrower's home payment (such as taxes, homeowners insurance, dues to a homeowners association or condo association, and ground rent).
All other recurring financial obligations of the buyer (such as alimony, child support and revolving/installment debt).
Total debt-to-income ratio for the borrower as per all of these outlined payments above.
Borrower's credit history.
Buyers will be required to provide detailed and current documentation regarding all financial aspects of their lives, up until the point the loan is approved, which may be just days before settlement. Lenders may question financial transactions that are common around the time of buying a home, such as financial gifts from family, an increase in credit card limits or spending, or any new application for credit from retailers or service providers.
While these new laws may sound excessive, they could help safeguard the country from the type of irresponsible lending that led to the real estate bust of 2008. And this is especially relevant in a state like Maryland, which has been toward the top in terms of foreclosures and short sales nationwide throughout 2013. In fact, a recent RealtyTrac report saw Maryland as trailing only Florida and Nevada in terms of the highest percent of short sales per capita, with 8.2 percent of all home transactions coming by way of short sale in October of 2013.
"There will be a new role for Realtors® in that they will want to sit down to talk finances with their clients before the excitement of house hunting begins," says Michael McKenna of The McKenna Group of WEICHERT, REALTORS® – New Colony. "Realtors will need to be familiar with these new mortgage laws so that they can guide their clients effectively. Ultimately, you will save your time and theirs."
While these new laws will add more red tape to an already time-intensive process for buyers and lenders alike, it could help save many borrowers from the worst financial headache of their lives and prevent another housing market meltdown.