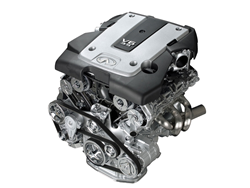 Both the 2.2-liter and 2.5-liter blocks that we hold in our updated inventory will be protected with the new policies available in 2015
Little Rock, AR (PRWEB) August 31, 2015
The now classic compact vehicles marketed in the mid-1980s at the Chrysler Corporation will be supported directly for better warranties for replacement components at the UsedEngines.co website. All replacement Dodge Aries engines in stock are now being sold with an extended warranty policy. Details about the new changes can be reviewed at http://www.usedengines.co/dodge/dodge-aries-engines.
The K-Series 4-cylinder engines that were installed into the Aries and Reliant vehicles between 1981 and 1989 will receive the new warranty support. Consumers who will install a motor into a Base, Custom, SE, LE or America trim edition vehicle will qualify for the extra coverage this year.
"Both the 2.2-liter and 2.5-liter blocks that we hold in our updated inventory will be protected with the new policies available in 2015," said one seller at the Used Engines Co.
Along with the support for OEM components in the warranty plans, verification has been completed to ensure the 3-speed and 5-speed transmissions used with the I4 motors will also be protected. The UsedEngines.co company is also retailing Dodge replacement gearboxes that will receive the extra parts protection.
"Our complete transverse front engine components inventory is part of our expanded warranty terms that are explained on our website," the seller added.
The Used Engines Co. has a dedicated staff of vehicle components experts that are available to answer questions about pricing, shipments or warranty documentation by phone at (989) 891-9212. People who do not require assistance before ordering any inventory in stock can continue accessing the e-commerce checkout system that was installed earlier this year on the homepage.
About UsedEngines.co
The UsedEngines.co company has built a warehouse inventory supplied by automotive junk yards in North America and Canada. This inventory is searchable directly by consumers who have access to the web portal on the homepage. The UsedEngines.co company deals only with preowned products that are discounted for consumers to purchase.