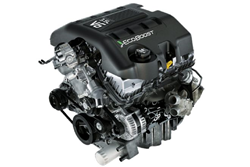 We've added a discount price to the minivan inventory of 4-cylinder motors that is now marketed nationally for Chrysler automobile owners to benefit
Phoenix, AZ (PRWEB) April 28, 2015
Some older automobile components for American automaker brands are now more difficult to find since technology has changed over the past 30 years in the U.S. The Got Engines company is currently one of the only retailers supporting K-series replacement motors for Chrysler produced vans. There are now Dodge Caravan 2.2L engines offered for sale at http://www.gotengines.com/blog/dodge-engines/dodge-caravan-22-engine.
The used 4-cylinder editions that are currently available to purchase this year were produced between the 1984 and 1987 production years at Chrysler. These authentic K-series van engines have been tested for compatibility as well as reviewed for defects before entry into the Got Engines company inventory for sale.
"We've added a discount price to the minivan inventory of 4-cylinder motors that is now marketed nationally for Chrysler automobile owners to benefit," said one GotEngines.com company specialist.
The support built up over the past couple of years at the Got Engines company for classic vehicle brands was strengthened this year by working with more vintage car parts suppliers. Since the 2.2L motors are now more than 30 years in age, there is a lack of supply available in some states in the U.S.
"Preowned motors can now be ordered for almost any vehicle brand in the Chrysler company direct from our website for the remainder of the year," the specialist included.
Th Got Engines company is currently working on adding 2015 built motor blocks for Dodge and subsidiary brand vehicles this year. The late model assemblies that will be available to purchase will soon be updated inside the company warehouse search tool now active for people visiting the homepage.
About GotEngines.com
The GotEngines.com company website is one retail source that automotive motor buyers use to find sale prices and mixtures of inventory on the Internet. The company has sold products to the public by way of its suppliers for more than 10 years. The GotEngines.com company adds gasoline, diesel and hybrid replacement motor blocks to its nationally available inventory on a weekly basis.