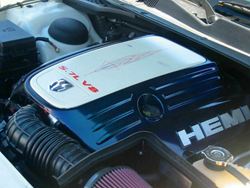 The 214 cubic inch displacement builds we are now shipping for zero freight costs are part of a test program for Chrysler inventory
Orlando, FL (PRWEB) May 27, 2015
The total price for a replacement V6 vehicle motor will now be lower for people who use the PreownedEngines.com company this year. The performance motor blocks that are in stock are now shipping with no freight charges to consumers. This incentive applies to the Dodge Challenger 3.5L used engines displayed at http://preownedengines.com/used-challenger-3-5-engine.
The SOHC V6 units that are currently in stock and eligible for the shipping promotion are meant for installation into the 2009 or 2010 Challenger vehicles only. These builds will not be compatible with a late model version due to changes in the motor design. Support for installation with a W5A580 5-speed transmission is provided with the inventory available.
"The 214 cubic inch displacement builds we are now shipping for zero freight costs are part of a test program for Chrysler inventory," said a specialist at the PreownedEngines.com company.
The used Mopar motor blocks that can be reviewed or purchased this year from the POE company are models that have been acquired through dismantlers in the United States. Since actual mileage counts can and do vary, a special warranty is now supplied along with every consumer purchase for 2015.
"Freight charges have been removed for some engines we have in stock although this does not affect the warranty policies in place," the specialist included.
The Preowned Engines company now supplies a way to activate a motor warranty from its homepage. A link is currently provided immediately after an approved purchase to help a person lock in the warranty terms for the duration of ownership for any brand in stock.
About PreownedEngines.com
The PreownedEngines.com company is one seller of foreign, performance and standard vehicle motors in used condition on the Internet. The company has doubled in size over the past several years in the United States. The PreownedEngines.com company has built a consumer searchable warehouse system that now displays what sale prices are offered and current stock status of its inventory on the web.