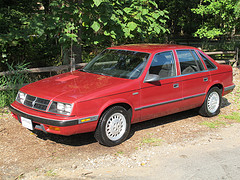 There is full support for the 3-speed and 4-speed gearbox types used in the Colt with our second hand 4-cylinder inventory
Erie, PA (PRWEB) May 21, 2015
The Dodge and Plymouth versions of the Colt vehicle were produced in the U.S. between 1984 and 1994 as part of the revised sedan vehicles at the Chrysler company. The Preowned Engines company is announcing its addition of several variations of Dodge Colt used engines inside the 4-cylinder inventory on sale at http://preownedengines.com/dodge-colt-engine-used.
The base level 1.5L and 1.6L builds that were originally designed and produced by Mitsubishi after a partnership with Chrysler are now present in the POE inventory online. These models are an OEM edition of the Orion builds that were used throughout the entire production period of the Colt in the North American market.
"There is full support for the 3-speed and 4-speed gearbox types used in the Colt with our second hand 4-cylinder inventory," said one PreownedEngines.com company specialist.
Consumers or vehicle mechanics who are concerned with compatibility for various Colt motors will not have issues with the inventory now available. The FF layout front mounted models in stock at the Preowned Engines company are direct fits for the Colt as well as the Eagle Summit vehicles in production until the early 1990s.
"All base, ES and speciality trim models for various Dodge, Plymouth and Eagle vehicles are supported through our revised engine inventory," said the specialist.
The PreownedEngines.com company is continuing its operations from its updated call center to provide assistance to consumers before and after the sale of a used condition motor. Support is still provided by phone or through the virtual system on the company website.
About PreownedEngines.com
The PreownedEngines.com company helps the public to find classic and modern vehicle motors that are in used condition on the web. The company gives open access to its entire supplier network to provide a source of exploration for all vehicle brands. The PreownedEngines.com company has its own service department that handles customer orders, warranty claims and shipment inquiries.