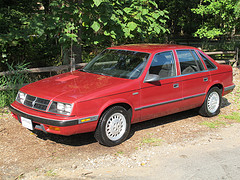 The regular and turbocharged models that are based on the 4G63 block built by Mitsubishi are the editions that we have in stock
Seattle, WA (PRWEB) May 15, 2015
Consumers who own vehicles that are no longer in production in the U.S. auto market can experience a difficult time when trying to locate a replacement motor block. The Powertrain Guys company is now helping to sell Dodge Conquest 2.0L engines from its inventory now available to order online at http://powertrainguys.com/dodge-conquest-2-0l-engine.
The I4 builds that consumers can now purchase first debuted in the European version of the Conquest in the mid 1980s. While this block was not released in the U.S., it is the same motor type used in the Talon, Plymouth Laser and Eclipse. Consumers buying these blocks at the PTG website will benefit from the cross compatibility of the 2.0-liter.
"The regular and turbocharged models that are based on the 4G63 block built by Mitsubishi are the editions that we have in stock," said one Powertrain Guys company source.
The turbo, EX II and ES cars are all supported for the replacement I4 builds that are now supplied at the PowertrainGuys.com website. A second advantage that purchasers are rewarded with this year at the PTG website is the full line of used 4-speed and 5-speed gearboxes that are available for the Conquest and similar vehicles.
"Instead of just selling used Dodge motors, we've also expanded to selling complete transmission assemblies that can be ordered in pairs," said the source.
The Powertrain Guys website has been modified with the preowned inventory of 2.0L I4 that consumers have access to purchase. Any buyer will have immediate access to the stock levels, warranty promotions and shipping schedules when accessing the parts finder now positioned on the company homepage.
About PowertrainGuys.com
The PowertrainGuys.com company helps consumers find old and recently build motors, gearboxes or other powertrain products on its website daily. The company works with some of the most well-known suppliers of vehicle components. The PowertrainGuys.com company has a new search tool that allows fast exploration of any used or rebuilt component available for vehicles.