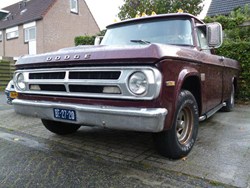 Both New Process and New Venture are represented for sale online.
Tuscaloosa, Alabama (PRWEB) August 03, 2013
Owners of the Dodge D100 truck series can now purchase a D100 transfer case without freight charges at the TransferCasesforSale.com company. This company has removed the costs that consumer pay to have these units shipped in North America. This erasure of freight charges is in addition to lowered price structures that are now found at
http://www.transfercasesforsale.com/process-241-transfer-case.
"There aren't many companies willing to absorb the cost of shipping assemblies," said a marketing associate from the Transfer Cases for Sale Co.
Both common shipping companies and long haul transportation companies have reported rising costs for freight distribution this year.
The removal of shipment costs for the transfer cases for sale is in addition to the already discounted prices that are applied. The Dodge brand of case assemblies in the New Process Gear build remain one popular type supplied by the TransferCasesforSale.com company. The NP241, NP231 and heavy-duty editions have been included inside the warehouse for sale this year.
"Both New Process and New Venture are represented for sale online," the associate added.
The name change of these two companies as well as the engineering upgrades does affect the types of cases that are produced. The vintage Dodge D100 assemblies are not compatible with the NV series used primarily in Jeep applications.
The announced pricing and shipment price changes are in combination with the website changes that have been added this year. A new upgrade this month to the public database online is the immediate review of pricing. Instead of a single price for each unit, consumers now receive the company price and competitor pricing to make a complete overview before purchase.
About TransferCasesforSale.com
The TransferCasesforSale.com company launched the first version of its website in 2009. Growth has been steadily recognized by this company partly due to marketing strategies and satisfied customers. The inventory that is held for sale includes recycled and used cases for some of the top 4x4 vehicles sold globally. The TransferCasesforSale.com company frequently publishes its discounted pricing and other details online to alert consumers of new changes. This company is continuing its trend of shipping all units freight-free in the U.S. to supply an even better price ratio to customers.