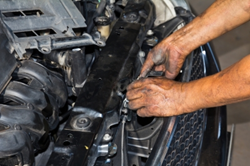 The late model Dodge Intrepid was built in Canada although most of its internal parts were outsourced and manufactured in different parts of the world
Charlotte, NC (PRWEB) April 07, 2015
Car owners or mechanics who need to buy replacement motor vehicle components for Dodge brands can now use the PreownedEngines.com company website to find inventory. The inclusion of the Dodge Intrepid 3.2 engines in used condition this month is providing a national source to buy V6 motors at http://preownedengines.com/dodge-intrepid-3-2-engine.
The Intrepid assemblies that are in stock and shipping this year are rated at 225 horsepower. These OEM built blocks were used in the 1998 to 2001 series of SE vehicles. Each assembly is an original SOHC block that is now sold as a complete unit to car parts buyers or mechanics in the U.S. Aside from the 3.2, the 2.7 and 3.5 are additional types of inventory offered for retail sale.
"The late model Dodge Intrepid was built in Canada although most of its internal parts were outsourced and manufactured in different parts of the world," said one PreownedEngines.com rep.
The 3.2 V6 Dodge replacement motors that are now featured in the Preowned Engines company national inventory are promoted with more than a lowered point of sale price. Because each motor is now warranted with a parts policy, a buyer who activates this warranty will receive extended components protection at no charge.
"The SE trim level motors for the Intrepid that are now for sale this year are sold complete with an updated sale price and full warranty for consumers," said the rep.
The Preowned Engines company is now using its toll-free support line at 1-866-320-1065 to provide research services to consumers who cannot match their VIN number on the web. When not using the warehouse exploration system online, a person can freely call the support department to ensure that a vehicle type is correctly identified by its vehicle identification number before ordering a replacement motor.
About PreownedEngines.com
The PreownedEngines.com company uses its partner network of automotive motor suppliers to help consumers find low sticker prices for engines of all brands. The company supplies public access to its database that holds thousands of complete motor blocks on sale. The PreownedEngines.com company provides full support by e-mail, web or telephone for any of its listed inventory that consumers can purchase nationwide.