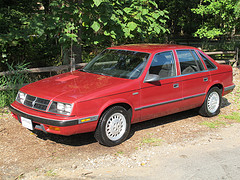 We've prepared a discount price structure for all people who visit our website to buy select Chrysler company inventory on the web
Indianapolis, IN (PRWEB) May 13, 2015
The Chrysler automotive company introduced its Lancer vehicle as a remake of the original hardtop design in the year 1985. Owners of the 5-door hatchback version will now be able to buy Dodge Lancer 2.2L engines at a discount price through the Powertrain Guys company online at http://powertrainguys.com/dodge-lancer-2-2l-engine.
The H body vehicle motors that are currently in stock are from the K-series I4 motors produced until the year 1989. Each of the units have a cubic inch displacement of 134 and are offered in standard or turbo models. This new PTG inventory that is now being distributed to consumers is compatible with all 3-speed and 5-speed gearboxes used in the Lancer cars.
"We've prepared a discount price structure for all people who visit our website to buy select Chrysler company inventory on the web," one Powertrain Guys rep said.
The front-wheel drive inventory of replacement car engines that are now being marketed for sale at the Powertrain Guys company website also includes the late model 2.5-liter I4 models. Vehicle owners or automotive mechanics having difficulty finding a local distributor for the larger 4-cylinder 2.5 will now be able to freely purchase these blocks this year.
"Dealing in classic vehicle components has helped promote our company in new markets this year, and we expect to continue this growth," the rep included.
The Powertrain Guys company website is now being updated automatically when sales take place to keep inventory accurate for consumers. Through a new digital link, each and every stock level report is now transmitted to the current inventory system that is available for vehicle parts buyers to explore online.
About PowertrainGuys.com
The PowertrainGuys.com company supplies automobile parts and accessories for drivetrains in foreign and domestic vehicles in the United States. The company now features thousands of available products to buy from its Internet inventory. The PowertrainGuys.com company supports ordering from its portal as well as customer service options for the public.