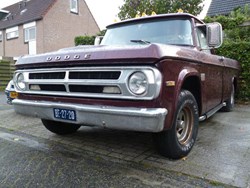 All Dodge engines and other brands in stock come packaged with our three-year warranties as a bonus to engine buyers.
Bangor, Maine (PRWEB) August 24, 2013
Dodge brand pickup trucks have earned consumer confidence due to production as well as engine development by the Chrysler company. The GotEngines.com company now announces the expansion of its Dodge truck engines inventory online at http://www.gotengines.com/blog/replacement-engines/truck-engines.
More previously owned engines that are genuine Dodge builds are currently offered inside the inventory marketed to truck owners and mechanics online. Various engine sizes can now be researched faster using the inventory search system that is currently offered.
"3.9, 5.2 and 4.7 motors most used in Dodge trucks can now be found for lowered prices," said a spokesman at the Got Engines company.
Motors are now purchased through several different supply companies that distribute engines in the secondary market.
Dodge brand pickup trucks include the Dakota and the Ram that are marketed in the U.S. and Canada. The discontinuance of the Dakota in 2012 has created a shortage for some engine types that were used inside of this truck platform.
The expanded inventory currently online seeks to fill the gaps created by the termination of the Dakota series trucks. New arrangements with truck engine supply partners has helped the Got Engines company to position its company as a leader in used Dodge truck engine sales online.
"All Dodge engines and other brands in stock come packaged with our three-year warranties as a bonus to engine buyers," the spokesman said. These policies are continuously monitored and updated as changes need to be made to improve customer assurance levels.
The Dodge inventory increases now announced are in relation to other truck engine brands that are currently listed online. The Ford Motor Company and General Motors V6 and V8 size engines currently in stock have received equal amounts of inventory changes this year to help build a better resource for motors online.
About GotEngines.com
The GotEngines.com company promotes previously owned engines inventory to United States buyers seeking replacement engines for most American made vehicles. This company has recently expanded its efforts into providing imported motors for Honda, Toyota, Nissan and other vehicle types. The GotEngines.com company remains one of the largest used engine retailers currently providing discounted prices and same day shipments to engine buyers. The company search tools promoted online remove the research usually required to find low priced engine units. Direct access to warranty information and engine quality details is provided to each customer.