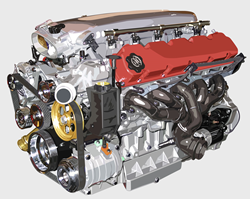 We're now one of the few second hand engine dealers online that has access to V10 motors as well as a price point that consumers can find difficult to locate using auction companies as a buying resource
Los Angeles, California (PRWEB) November 20, 2013
The V10 engine produced by Chrysler for its Viper brand is one of the largest in production in the United States. The Got Engines company is announcing the sale of the Dodge Viper engine in used condition online. This new update to the company inventory is expected to reach actual Viper owners, mechanics and other buyers of authentic Dodge motors.
The 8.0 liter engine forms the base of the Viper motors that were first produced in 2008. Early 1990s editions that helped launch the Viper brand can be a difficult product for a buyer without an auto industry supplier to find. The arrival of the V10 motors in the GotEngines.com company inventory are expected to affect North American engine buyers.
"We're now one of the few second hand engine dealers online that has access to V10 motors as well as a price point that consumers can find difficult to locate using auction companies as a buying resource," a rep for the GotEngines.com company said.
The used Dodge motors that are now posted in the public database of engines available at the Got Engines website are in addition to the standard Chrysler based engines in stock. The Hemi 4.7 and 5.7 are two of the popular builds that are most requested by U.S. buyers who purchase from the existing inventory posted online.
"The V10 addition is positioned inside our V8 inventory and is available for direct U.S. shipments through our freight partners," the rep added.
A policy change to the types of freight companies used in 2013 has modified the shipping costs for all used engines sold by the Got Engines company. The changeover to new companies has totally removed the prices once charged to ship a motor inside the United States. The Viper V10 motors are included in this new policy change.
Future updates to the Viper inventory or other Dodge brands of preowned engines listed online for sale are scheduled to be made on the inventory research page at http://gotengines.com/blog.
About GotEngines.com
The GotEngines.com company is known in the United States auto market as one of the top preowned engine sellers online. This company has positioned its inventory over the past decade as one of the most affordable to the general public. The sources of suppliers that are now utilized have helped build the inventory of motors featured through the company warehouse. The GotEngines.com company has designed intelligent search systems for use online that determines engine pricing and actual stock status of inventory that is purchased by the public.