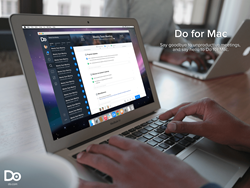 San Francisco, CA (PRWEB) September 30, 2015
Do™ (do.com), the leading productivity platform for meetings, announced today the release of Do for Mac. This complements Do's existing offerings on the web (Do.com), iPhone, iPad, and Apple Watch.
Do for Mac allows people to run productive meetings right from their desktop. People create meetings, share agendas, track follow-ups and outcomes, use templates, mention relevant coworkers, assign tasks with automatic 24-hour reminders, share files, see related meetings, and automatically share summaries. People can also quickly message meeting participants and schedule followup meetings, and even receive mid-meeting reminders to stay on track via Apple Watch. As a result, Do reduces time spent in meetings and increases team productivity.
The desktop app is available as a free download in the Mac App Store starting today.
Along with the announcement of Do for Mac, Do is also announcing several new company milestones and product integrations. In July, the company celebrated its 1-year anniversary. Do reports that over 10,000 companies, like CBS, Weather.com, and many more, are using the platform to help run more than 100,000 productive meetings -- and growing -- every month. Earlier this year, Do announced a $2M seed financing from New Enterprise Associates, Slow Ventures, and other leading investors, along with a partnership with Microsoft. The company launched in July 2014 with backing from SherpaFoundry, SherpaVentures, and Salesforce.
In addition, the company recently announced new partnerships with Slack and GoToMeeting, allowing people to share meeting summaries to channels or groups on Slack, as well as launch GoToMeeting sessions right from within Do. The integration with GoToMeeting allows people to hold HD video conferencing, share their screens with meeting participants, and record audio of their meetings. By connecting with existing communications tools, Do expanded its integration suite beyond Google Apps, Microsoft Exchange, Office 365, and Evernote. During the summer, Do also introduced Do Insights, the first people analytics product that analyzes meetings and uses machine learning to recommend better ways to use employee time.
Now adopted by thousands of companies as the centerpiece of meetings and work productivity, Do plans to continue its series of major product launches and business partnerships in 2015. People looking to make meetings more productive can sign up at Do.com, on mobile with the Do Apple Watch, iPhone, and iPad apps, and of course, on desktop by downloading Do for Mac.
About Do
Do (do.com) helps people run productive meetings. Founded in 2013 by former Yammer product manager Jason Shah and incubated at SherpaFoundry, Do is backed by NEA, SherpaVentures, Salesforce, Slow Ventures, and other top investors. Learn more at do.com.