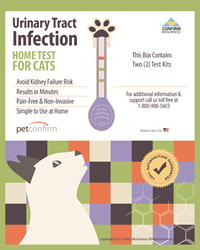 Most people see their pets as members of their family and care for them as their own children. Pet parents are very conscientious about their pets' healthcare, and a home-test is a great tool for them to quickly screen for common health issues
San Diego, CA (PRWEB) July 29, 2015
Confirm BioSciences Inc. announced today the availability of Petconfirm™ Pet Health and Wellness Home Products.
The PetConfirm™ Urinary Tract Infection Home Test (UTI) , the first at home UTI Test for cats and dogs detects parameters such as blood, leukocytes (also known as white blood cells), and Nitrite, which are indicators of urinary tract pathology. A positive result will require veterinary care.
The PetConfirm™ Urinary Tract Infection Test is a unique device adapted for home-use. Unlike conventional test strips that can expose users to the chemical reagents, the PetConfirm™ system is fully enclosed and offers a very safe, easy and clean handling for pet parents eager to take charge of their pets' healthcare. Results are obtained in minutes after administering the tests.
Urinary Tract Infection (UTI) is usually caused by intestinal or environmental bacteria that enter and ascend the urethra, ultimately proliferating in the urinary bladder. UTIs are extremely common, but the symptoms and prevention methods are still unknown to many first time pet owners. It is important to catch and treat UTIs early, as they can lead to other complications like kidney failure.
The following symptoms of UTI in Dogs and Cats can be observed:

Frequent urination
Straining or crying out in pain when trying to pass urine
Inappropriate urination in places that are not customary
Urine has strong odor
Vomiting
However, some affected pets might show no clinical signs, and if the infection is not detected early, it can spread to the kidney and lead to more serious health conditions requiring surgery.
"Most people see their pets as members of their family and care for them as their own children. Pet parents are very conscientious about their pets' healthcare, and a home-test is a great tool for them to quickly screen for common health issues, in addition to regular check-up visits at the vet. " said Phuong Nguyen, Chief Scientific Officer.
"We are delighted to have the opportunity to offer the UTI test for at home use." Said Zeynep Ilgaz, CEO and President on Confirm BioSciences Inc. "We are committed to helping communities and now pets live healthier and happier lives through our innovative testing solutions" she continued.
If your dog suddenly starts acting as if she has pain when trying to urinate or is having accidents in the house when normally she doesn't, then one possible cause could be a UTI. Statistics report that about 14% of dogs will get a UTI in their lifetime. This presents a major concern for your pet, as there is consistently a 10% chance that some of the health issues that your dog will face will be related to a Urinary Tract Infection.
The newly launched PetConfirm™ UTI test will now available on Amazon.com, Walmart.com and other retailers.
About Confirm BioSciences
Confirm BioSciences Inc. is a global leader in the field of Human and Animal Health Testing Products and Services.
Confirm Biosciences other proprietary products include Hairconfirm®, Drugconfirm™ and SalivaConfirm™ which are intended for health and substance abuse screening using bodily fluids.
Visit http://www.confirmbiosciences.com