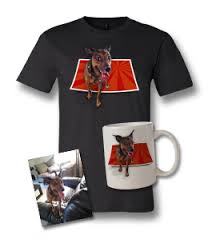 We keep our pricing to a minimum to help create inexpensive gifts.
Green Bay, Wisconsin (PRWEB) July 04, 2013
Pet-related apparel is a growing industry in the U.S. Along with pet products, shirts and other garments are benefiting from increased popularity. The MurrayShirts.com company is now applying a photo-realistic printing method for its dog clothes sold to consumers. This company specializes in custom-printed pet apparel and is now making this printing advancement available to consumers at http://murrayshirts.com/shop.
Various forms of printing substrates exists in North America. The traditional screen or stencil method is one type used by some companies that order t-shirts in bulk quantities. This printing type typically requires set up charges and minimum print runs per color.
The new processes used by the Murray Shirts Co. is creating a new form of color printing that is safe to wash and wear without fear of print damage.
"We use top of the line printing equipment without the high markup," a designer from the MurrayShirts.com website confirmed. The direct print methods that are now used to apply full-color photographs to the company supplied products is raising the quality level for consumers. "People love their pets and can now wear a full-color print without quality loss," added the designer.
The printing industry has expanded in color reproductions although the cost per garment has increased. Cotton manufacturing prices have fluctuated each year since 2004, according to the National Cotton Council of America. These prices have increased the cost of printing garments for some printers. The Murray Shirts Co. is now using suppliers in more than one global location to secure the lowest cost per print for its customers.
"We keep our pricing to a minimum to help create inexpensive gifts," said Shon Strickland, founder of MurrayShirts.com. The improved printing quality mixed with the better supply options is helping this company to forge ahead in the uncertain economic times for some printing companies on a national level.
About MurrayShirts.com
The MurrayShirts.com company specializes in custom printing for garments and other substrates in full color. The printing advancements and investments made by this company in 2013 is now resulting in better quality prints for consumers. A low price point for each order is one of the policies that is helping consumers to create custom gifts inexpensively now shipped nationwide. The MurrayShirts.com company is one of few digital printers online that is printing products for men, women and children with no minimum order quantity required.