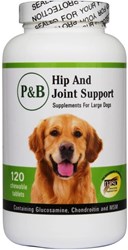 Veterinarians trust glucosamine and chondroitin to prevent the erosion of joints and even reverse years of damage to the tissues that protect your dog's joints
Wilmington, DE (PRWEB) August 23, 2013
Pear & Berry, a company that specializes in producing top-quality supplements for dogs with hip and joint issues, has just announced the release of an innovative new product that provides the answer to a common question dog owners often have: how to naturally and safely treat arthritis in dogs.
As anybody who has had a dog with hip dysplasia or arthritis knows quite well, it can be devastating to watch a beloved family pet have a hard time getting around. While medication and surgery can often help, they are also very costly solutions that many dog owners simply cannot afford. In addition, the pain medications that are typically used to treat dogs with hip dysplasia and arthritis often have dangerous side effects, including chronic liver and kidney problems.
This is where a high quality, all-natural supplement like P&B Hip and Joint Support can help. P&B Hip and Joint Support was specially formulated by a biochemist who has over 28 years of experience studying and working on the complex relationships that exist between natural ingredients and their ability to help with pain relief and joint health.
Through its combination of glucosamine for dogs, chondroitin, MSM and vitamin C—all of which have at least two decades of research behind them—many dogs are able to grow and rebuild their damaged and torn cartilage, which helps them to feel much better. In addition, P&B Hip and Joint Support carries an NASC label, which means it has achieved the highest quality standards in the industry.
"Veterinarians trust glucosamine and chondroitin to prevent the erosion of joints and even reverse years of damage to the tissues that protect your dog's joints," an article on the company's website noted, adding that P&B Hip and Joint Support is formulated into an all-natural treat with a taste that dogs love.
"P&B Hip and Joint Support is grain-free and made with all-natural ingredients, containing no preservatives or artificial flavorings. All the active ingredients are refined from shellfish, crab and pork, and the supplement is flavored with nutritious chicken liver flavor."
Anybody who is interested in learning more about P&B Hip and Joint Support is welcome to visit the Pear & Berry website at any time; there, they can watch a short video about the product as well as read educational and in-depth articles about the ingredients that are found in the supplement. Those who wish to order the product, which comes with a money back guarantee, may do so by clicking on a link that will take them to a page on Amazon.com.
About Pear & Berry:
Pear & Berry is a leader in the research and evolution of the highest quality dog joint supplement products on the market .The company specializes in a unique, comprehensive hip and joint support product for canine health that is backed up by over 29 years of research. For more information, please visit http://www.pearandberry.com/.