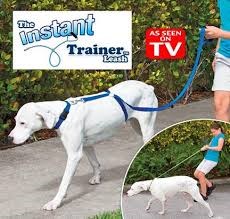 Some breeds are more difficult to train using standard commands and tips learned in dog training programs
San Francisco, California (PRWEB) September 08, 2013
Dog training costs can be hundreds of dollars for each class, according to pet industry surveys. One new products company has introduced a new dog leash training product online at http://www.theinstanttrainer.com.
The Instant Trainer Leash company is providing its top leash training product for $10 online and this special low price includes two professional training leashes for dogs of any size.
"Some breeds are more difficult to train using standard commands and tips learned in dog training programs," said a specialist from The Instant Trainer website.
The energy levels of some dogs can make it more difficult for the average person to express verbal commands. The new training product released online includes revolutionary control technologies that have been tested on dogs of all types.
"We're selling what we believe to be the last leash that a pet owner will have to buy," the specialist confirmed.
The simple pull and stop nature of the new leash system is able to control any dog during the ownership of the leash or the money for purchase is refunded. The Instant Trainer Leash is not yet sold in stores and all special pricing is web-only for the remaining months of the year.
A television marketing campaign has been launched to promote this product for online sales in all 50 U.S. states. The special web-only pricing applies to all sales that are made on the company website.
A person who has difficulty training a dog of any size could find the newly released product useful. The simple application instructions that are provided online and with the delivery of the product are designed to make training easier for owners of pets.
About TheInstantTrainer.com
TheInstantTrainer.com company has now created and launched its newest dog leash product online. This leash is designed to remove the struggles that men and women have when training dogs of any age or size. The company website has launched to provide a complete dog training resource online. TheInstantTrainer.com website is now fully e-commerce enabled to allow purchases of all company products in a secure virtual area online. The company products are not yet sold in stores and have gained a cult following for success rates from online shoppers.