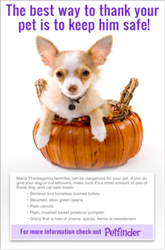 as of September 24, 2013, the agency had received approximately 3,000 reports of pet illnesses which may be related to consumption of the jerky treats.
Los Angeles, CA (PRWEB) November 21, 2013
Americans spend so much time planning for and enjoying the Thanksgiving holiday, that it is sometimes easy to overlook pet safety issues, says the Fresh Patch Dog Potty Company. Food treats can be a particular problem for dogs during the holiday season, says the Company, because there is a natural tendency for people to want to give their dogs food from the table and to share special goodies with them. That's when it's important to remember that dogs have a different digestive system than humans and can be harmed by or even die from eating certain human food.
Chocolate is fatal for dogs and children in homes with pet dogs must be taught that they cannot give it to their canine friends. Thanksgiving and Christmas are very dangerous times for pets because of all the rich, plentiful table food and the "giving" spirit of both holidays. The Petfinder organization—which manages an internet site for dog adoptions—offers some helpful advice about Thanksgiving food (http://www.petfinder.com). If a family wants to give a dog some leftovers, Petfinder recommends only very small amounts of skinless and boneless cooked turkey; steamed plain greenbeans; or plain mashed sweet potatoes, carrots, or pumpkin. The watchwords are plain, spice-free, and bone-free, says the Fresh Patch Company. With that guidance in mind, it is easy to reserve for a dog a very small portion of very plain, simple food--after it is well-cooked and before any spices or other ingredients are added to it. That's the best and safest way to let a dog share in the Thanksgiving meal.
Regarding commercially available dog treats at Thanksgiving, the Fresh Patch Company is advising its customers about the recent reports of contamination in jerky pet treats. The U.S. Food and Drug Administration (FDA) reports that "as of September 24, 2013, the agency had received approximately 3,000 reports of pet illnesses which may be related to consumption of the jerky treats. Most of the reports involve jerky products sourced from China. The majority of the complaints involve dogs, but cats also have been affected. The reports involve more than 3,600 dogs, 10 cats and include more than 580 deaths. There does not appear to be a geographic pattern to the case reports."
Importantly, the FDA encourages pet owners who give their pets jerky treats to look for the following signs of illness that could occur within hours to days of feeding the products to dogs: decreased appetite; decreased activity; vomiting; diarrhea, sometimes with blood; increased water consumption; and/or increased urination. If dogs show any of these symptoms, the FDA recommends that owners immediately stop feeding the jerky pet treat, and consult their vet if signs are severe or persist for more than 24 hours. Blood tests may be required to check a dog's kidney function and glucose levels. The FDA has put out a fact sheet that dog owners should consult for more information on this issue: (http://www.fda.gov/animalveterinary/safetyhealth/productsafetyinformation/ucm295445.htm#Advice_to_Pet_Owners_and_Consumers).
According to the Fresh Patch Company, the holidays can also be very dangerous times for dogs when they are taken on long car trips without adequate planning for their needs. The Company advises pet owner to make advance plans to ensure that their pets have water, food, toys, leashes, dog bed/blanket, and scoop-up bags for the trip, and that any needed dog medicine is packed along with the pups. It is also wise to map out dog-friendly hotels in advance, and to get the address and phone number of a vet clinic that is near the point of destination. The Fresh Patch Company also recommends bringing along in the car one of their real-grass, disposable dog potties to make it easy for a dog to stay in a dog-friendly hotel or at the home of a Thanksgiving host. The Company says that its potties can also be useful at rest stops, particularly at night, during a long car ride. The Fresh Patch dog potty gives the family and its dog the certainty and reliability of a private traveling backyard to meet a dog's bathroom at any time.
When it comes to the holidays, the Fresh Patch Company says that it fully agrees with the Petfinder slogan--the best way to thank dogs at Thanksgiving is to keep them safe.