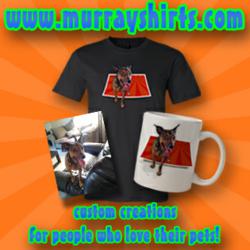 The dog shirts and other pet products that are printed by the Murray Shirts company are created with a direct to product printing process.
Cleveland, Ohio (PRWEB) July 01, 2013
The textiles industry provides many companies with a way to promote products or services. Consumers searching for custom printed apparel can be disappointed with the setup charges and order minimums that are often required. The MurrayShirts.com company is now printing dog t shirts for people that can be designed and printed using its new online interface. This company specializes in pet apparel products that are customized entirely by pet owners. The current designs and graphic creation services can be viewed online at http://www.murrayshirts.com.
The print technology now used to provide full-color prints to various substrates offers photo realistic quality that was not available only a decade ago. Advancements made in ink technology have produced inks that are able to withstand fading, cracking, water, oils and other substances known to contribute to the degrading of full-color prints. The dog shirts and other pet products that are printed by the Murray Shirts company are created with a direct to product printing process.
"Our printing does not rely on iron-on transfers or the type of printing that many consumers are familiar with at home," said Shon Strickland, owner of the MurrayShirts.com company. Arrangements with top graphic designers and textile manufacturers have helped this company to develop a way to keep costs lower than typical printing companies.
"We design, print and ship each order without depending on order fulfillment companies," Strickland added. These efforts are part of the quality commitment undertaken to provide superior print quality and service to the public.
Aside from the interface now usable online, a new gift certificate program was launched this year. These certificates are helping more people to place orders faster without the need to register credit card or PayPal data inside the e-commerce system in use. These certificates can be purchased and shipped to any worldwide destination. The certificates are attractively printed and are designed to be awarded as gifts or for special occasion purposes to owners of pets.
About MurrayShirts.com
The MurrayShirts.com company offers direct to garment printing services for its textiles, ceramics and other substrates in full color. This company is one of few in the nation exclusively offering pet shirts for affordable prices. The easy to use design interface now used online takes away that graphic design work that used to be required in the printing industry. The MurrayShirts.com company ships its printed products to worldwide destinations and offers gift certificates for easy ordering online. A toll-free number is now established for national contact for order placement or shipment information.