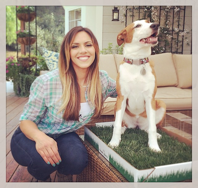 Dog expert Laura Nativo shows one of her dogs on the Fresh Patch real-grass, disposable dog potty
New York, NY (PRWEB) March 28, 2014
Fresh Patch can be a useful "potty zone" for house training dogs, says dog expert Laura Nativo. A "potty zone" is a specific, designated area that a dog owner has established for the pet's bathroom needs. It is important for the owner to reinforce a dog's use of the potty zone so that the pet consistently knows it is an "approved" area.
Nativo recently described the use of Fresh Patch as a potty zone on the Hallmark Channel's "Home and Family" television show. To establish Fresh Patch as a potty zone, Nativo recommends that owners give their dogs a walk or treat after they have used the real-grass potty. Soon, dogs will use Fresh Patch potty when a reward is given only occasionally, or discontinued. The Fresh Patch Company says that the scent of its real grass potty naturally attracts dogs, who associate the grass in the potty with the grass outside the home. Dogs quickly learn that doing their business on real grass is always the right thing.
The concept of a potty zone is basically an extension of the traditional training method of confining a dog to a particular room or spot in the house while being trained with pee pads or other products. According to the Fresh Patch Company, it makes a lot more sense to use a real-grass dog potty in a confined area instead of synthetic pads or fake grass potties. "Dogs want to go on real grass," says a Company spokesperson, "and owners love the convenient delivery and replacement of Fresh Patch on a weekly or bi-weekly basis.
The Fresh Patch Company uses hydroponic grass, which is long-lasting, light-weight, dirt-free, and super-absorbent. Fresh Patch is shipped via Fedex throughout the continental U.S.