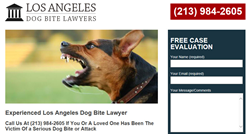 Unlike many other states, California does not have a "one bite rule" when it comes to dog attacks
Los Angeles, CA (PRWEB) September 30, 2014
LosAngelesDogBiteLawyer.net is a new website has recently been launched to better assist dog bite victims in both Los Angeles and its neighboring areas.
According to the CDC roughly 4.5 million people across the United States are bitten by dogs ever year. Approximately 885,000 of these required medical attention for either minor or more serious injuries such as bone fractures, lacerations, puncture wounds, crush injuries, abrasions, and infections like rabies and cellulitis.
Although most dog bites are not considered fatal, according to the CDC, an alarming 50 percent of all dog bite victims are children who must not only deal with physical injuries, but with mental and emotional trauma, as well.
The LosAngelesDogBiteLawyer.net website aims to help a victim of a dog attack thought this frightening and traumatic time with the goal of helping them understand California dog bite laws, so their rights are protected.
While the website provides some great information, it is always recommended that victims consult with an experienced Los Angeles dog bite attorney who can analyze their specific case circumstances. If the attack is serious and an injury claim is filed then a lawyer can help then obtain fair compensation for damages such as past and future medical expenses, medical monitoring, lost income, lifetime care costs, pain and suffering, and loss of enjoyment of life.
Unlike many other states, California does not have a "one bite rule" when it comes to dog attacks and instead opts for "strict liability" laws. Strict liability simply means that the dog owner is held liable for the injuries if certain events occur, independent of whether the dog owner could have done something to prevent the attack.
This means that "winning" a dog bite injury case is easier to predict in California and gives the victim somewhat of an advantage if the case goes to trial.
It's important to note that one area that http://www.losangelesdogbitelawyer.net does not cover however is where a dog has been attacked or bitten by another dog.