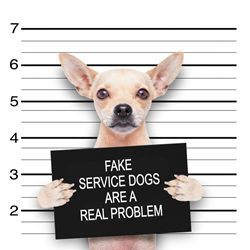 People need to understand that faking service dogs is not victimless. Those who fake service dogs don't consider the ripple effect of their actions.
Boca Raton, FL (PRWEB) February 16, 2015
The popular dog news site, The Dogington Post, published a report on Monday, February 16th exposing both the legitimate need for Americans with disabilities to have privacy rights in regards to their service dogs and the huge loopholes that very privacy creates when it comes to people who pass off their pet dogs as service dogs. While there are are roughly 22,000 legitimate service dog teams in America, hundreds of thousands of fake service dog vests, certificates and ID cards are sold every year.
Harlan Kilstein, Publisher of The Dogington Post said, "It's a huge industry in which millions of dollars are being made tempting dog owners to cheat the system."
The Americans With Disabilities Act (ADA) defines service dogs as "…dogs that are individually trained to do work or perform tasks for people with disabilities. Examples of such work or tasks include guiding people who are blind, alerting people who are deaf, pulling a wheelchair, alerting and protecting a person who is having a seizure, reminding a person with mental illness to take prescribed medications, calming a person with Post Traumatic Stress Disorder (PTSD) during an anxiety attack, or performing other duties."
Additionally, the ADA protects the rights of individuals with disabilities to be accompanied by their service dogs in public places not normally considered "dog-friendly."
Despite written laws that both define a service animal and explain the rights and requirements of service dog teams, the general public, including business owners and their staff, are largely unaware, untrained, or misinformed.
Brandy Arnold, Content Editor for the Dogington Post said, "This opens the door wide open to those who wish to cheat the system and pass their untrained pet dog off as a service dog in order bring their dog places they wouldn't normally be allowed, like restaurants, shopping malls, and on board airplanes."
Also, in an effort to protect the privacy of the disabled, very limited inquiries into the legitimacy of a service dog are allowed. Businesses, staff, and officials may legally only ask two questions to a service dog handler:
1. Is the dog a service animal required because of a disability?
2. What work or task has the dog been trained to perform?
Thousands of companies are profiting from this general lack of public knowledge, and thousands of Americans are, in-turn, passing their pet dogs off as service dogs - an act that, due to privacy laws is nearly impossible to prove - and very easy to get away with.
A simple google search for "service dog vests" returns over 4 million hits from websites offering "official service dog" vests, certification cards, ID's, and official looking documents, some for the bargain basement price of $39. Many of these sites even provide customers with a written prescription, or "official" letter from a physician or psychiatrist detailing their "patient's" need for a service animal.
While the federal government has done an excellent job of putting easily enforceable laws into place that provide and protect the rights of disabled persons and their service dogs at a national level, little has been done to prevent the fraudulent misrepresentation of family pets as service dogs. And, although the ADA's service dog policies apply on a national level, the enforcement of those policies falls under the responsibility of each state. To date, only 16 states have specific written laws pertaining either to the misrepresentation of a service dog or to misrepresenting oneself as disabled.
"Unfortunately," Arnold continued, "ambiguity in the definition of a service animal, lack of a central governing and certifying organization, and fear of both public backlash and costly litigation by business owners have created loopholes in the system that are big enough to drive a truck through! And people by the tens of thousands are taking advantage."
Arnold goes on further to explain that, "People need to understand that faking service dogs is not victimless. Those who fake service dogs don't consider the ripple effect of their actions."
Fake service dog teams are often disruptive, unlike highly trained legitimate service dogs who undergo hundreds of hours of training and socialization. As a result, fake service dogs create discrimination toward legitimate teams, and can pose a genuine safety hazard - a concern that is not present in true service dogs.
With a weekly reach of 1.5 million dog lovers, The Dogington Post hopes that by spreading awareness to the growing problem of fake service dogs, the site can not only bring light to this important topic but will help effect change, in hopes of making the risk of getting caught with a fake service dog worse than the reward.
For more information about The Dogington Post and Service Dogs, visit http://dogingtonpost.com.
About Dogington Post:
DogingtonPost.com was created for the love of dogs. It promises a forum of informative articles, newsworthy dog stories, health and breed information, and heartwarming videos. The site addresses current issues affecting dogs and their human parents – from serious health concerns to lifestyle issues on feeding, grooming and the overall well-being and mental health of dogs. It is the Internet newspaper, all about dogs.