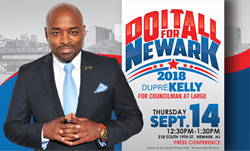 Lets Do It All For Newark
Newark, New Jersey (PRWEB) September 12, 2017
Throughout his life, Dupré Kelly has always had a passion for the City of Newark and a drive to serve his community. In 1994, Mayor of Newark Sharpe James, honored his group with their very own Lords of The Underground Day making September 28th an annual holiday. Whether through his music, his fraternity Alpha Phi Alpha, business endeavors or his not-for-profit organization, Dupré serves his community in many capacities. He is co-founder of 211 Community Impact, a not-for-profit 501c3 company in Newark, NJ. 211 Community Impact helps through its grassroots programs addressing literacy, homelessness, mental health and wellness, education, gun violence, and currently runs many youth activities. Furthermore, he is Co-CEO of 211 Media Group, a company that specializes in all aspects of media, television, and film production as well as event planning and consulting. When elected Dupré "Doitall" Kelly will make history as the first Platinum selling hip-hop artist to hold public office.
As Council Member-at-Large, Doitall wants to address several issues:
Lack of Funding for Youth Programming and Summer Jobs. In order to secure a better tomorrow for us all, we must make greater investments in our youth today. This year over 5,000 Newark youth applied to the Mayor's summer youth program, but due to funding constraints, the City was only able to employ roughly 2,500 students. Expanding private investment by $2 million for the Mayor's Summer Youth Employment Program will ensure that we can truly leave no child behind.
Initiate Greater Activities Through Arts & Culture It is through Dupre Kelly's extensive Artistic experience that he believes that the arts drive creativity, expand economic growth, and generate jobs The latest data from the Arts and Cultural Production Satellite Account (A collaboration. of the National Endowment for the Arts and the U.S Department of Commerce's Bureau of Economic Analysis (BEA) reveals that the arts and cultural sector contributed $729.6 billion or 4.2 percent to the U.S economy that year. Recent joint research by Newark Arts and Americans for the Arts revealed that Newark's Arts and Culture industry generates $178.3 million annually, provides resident income of $133 million, and supports 4,983 jobs (2016).
Lack of Civic Engagement Neighborhood Inclusion). We must begin to move the wards out of their individual cultural silos Encourage a new philosophy on the City Council to move away with protectionist attitudes and work together to serve the interest of the entire city Doitall will work with stakeholders to make sure the neighborhoods are included in our current economic renaissance Doitall will create a massive ward by ward initiative encouraging our seniors to volunteer in mentoring and assisting our youth through our city programs.
Dupré "Doitall" Kelly intends to move beyond campaign lines to lead the city forward through arts & culture, drawing from the City's history to help reshape the future. Newark needs new energy on the City Council to advocate for positive changes that benefit all Newarkers. Please attend on September 14, 2017 to learn and hear more about Doitall for Newark. For media, please contact Cordelia Donovan at iam@cordeliadonovaninc.com or call (646) 678-6048 and for campaign inquiries please contact campaign manager Monico Cruz at monicodoitallfornewark@gmail.com or call (973) 536-3729.