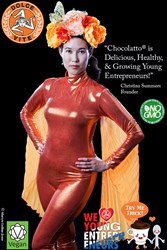 Chocolatto® is Delicious, Healthy, & Growing Young Entrepreneurs!
New York City, NY (PRWEB) September 25, 2013
Dolce Vite Chocolatto, Italy's best kept secret, thick dark Italian hot chocolate cocoa. America's most unusual chocolatier Christina Summers reveals why she started Chocolatto® in conjunction with "Dolce Viten", the premier young entrepreneur program.
Summers recounts the beginning of Chocolatto, "I traveled to Italy on a food excursion with a close friend who is an expert in Italian cooking and food. We traveled from the North of Italy down to Sicily, tasting the best food and drink in each region. I fell in love with the Italian style of hot chocolate, and started Dolce Vite. The history behind Chocolatto® is fascinating because it was originally only a dessert for the European royals, as cacao was very expensive. Sipping chocolate was the height of fashion in the courts, and revered for being an aphrodisiac and medicinal."
"Two reasons make Dolce Vite® unique! First, Dolce Vite Chocolatto® is a thick, creamy, dark Italian hot chocolate dessert. We prefer to call Chocolatto® a dessert rather than a drink, because the proper Italian way to consume it is with a small spoon. Many first time tasters say the consistency is similar to a pudding or a mousse. Additionally, Chocolatto® contains no GMOs (genetically modified organisms), preservatives, artificial colors or flavors. It also has low sugar, low caffeine content, and vegan ingredients. I'm very health conscious, love chocolate, and cannot drink coffee due to the high caffeine, so I wanted to give people such as myself a different delicious taste experience, rather than tea which is boring."
"Our Chocolatto® music video explains it all; Tohm Lev a talented singer did the vocals and stars in it! Watch here dolceviteforeveryoung.com."
"Second, Dolce Vite has a fantastic opportunity for young entrepreneurs studying business to learn about entrepreneurship and earn money in a way relevant to their studies, rather than traditional college jobs. College is not giving business students enough real world tools and we are here to fill that gap. This program is called "Dolce Viten", the premier young entrepreneur program and we are currently accepting applications. Learn more here: dolceviteforeveryoung.com/pages/dolce-vite-young-entrepreneurs."
"Everyone always asks us 'Why all the orange?' The reason is Dolce Vite is Chocolatto® can be made into really delicious hot chocolate recipes, and the best is the 'Chocolatto® Orange' recipe, made with 1 Chocolatto® serving, fresh orange juice, fresh orange zest, and milk. The orange and dark chocolate are perfect together, hence all the orange color in our designs. Plus who doesn't love orange? It's a bright, fun, happy color, like our company Dolce Vite®, meaning the 'good lives'."
Dolce Vite Chocolatto® make it thick, stay forever young.
About Dolce Vite® LLC
Dolce Vite® is based in Brooklyn, NY and founded by Christina Summers on the principles of the clean-food diet, "Americans are demanding quality food, and Chocolatto® is the Mercedes of the hot chocolate cocoa world." Find out more at dolceviteforeveryoung.com and facebook.com/DrinkDolceVite and twitter.com/DrinkDolceVite and youtube.com/DolceViteNYC.
Chocolatto® Italian hot chocolate recipes can be found at dolceviteforeveryoung.com/pages/chocolatto-recipes.
View "Chocolatto® is Back!" music video on our website or youtube.com/watch?v=1xSx2XzTXdQ.
Restaurants and cafés interested in carrying Chocolatto® can email sales(at)dolceviteforeveryoung(dot)com or call 917-50-DOLCE (36523).