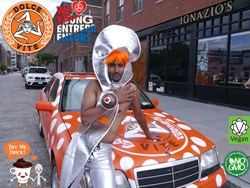 Sexy Spoon Man makes Chocolatto® Orange, a delicious concoction of Chocolatto® & fresh orange.
New York City, NY (PRWEB) September 30, 2013
Sexy Spoon Man makes Chocolatto® Orange, a delicious concoction of Chocolatto®, Thick Dark Italian Hot Chocolate Cocoa, and fresh orange. Chocolatto® is unlike regular hot chocolate cocoa, due to its thick pudding like consistency, no GMOs (genetically modified organisms), no preservatives, no artificial colors or flavors, less sugar, low caffeine content, and vegan ingredients. Filmed in Ignazio's pizza restaurant with the beautiful residents of DUMBO as Chocolatto® taste testers.
Additionally, Dolce Vite® has a fantastic opportunity for young entrepreneurs studying business to learn about entrepreneurship and earn money in a way relevant to their studies, rather than traditional college jobs. College is not giving business students enough real world tools and we are here to fill that gap. This program is called 'Dolce Viten', the premier young entrepreneur program and we are currently accepting applications. Learn more here: dolceviteforeveryoung.com/pages/dolce-vite-young-entrepreneurs.
Chocolatto® Orange Recipe
1 Serving Chocolatto®
1 oz Orange Juice
3.5 oz Milk (Vegan Option Soy or Nut Milk, or Water)
1/2 tsp Orange Zest
Chocolate Flakes
Whipped Cream
Cointreau
Dolce Vite Cup & Saucer
Spoon!
Dolce Vite Chocolatto® - make it thick, stay forever young.
About Dolce Vite® LLC
Dolce Vite® is based in Brooklyn, NY and founded by Christina Summers on the principles of the clean-food diet. "Americans are demanding quality food, and Chocolatto® is the Mercedes of the hot chocolate cocoa world." Find out more at dolceviteforeveryoung.com and facebook.com/DrinkDolceVite and twitter.com/DrinkDolceVite and youtube.com/DolceViteNYC.
Chocolatto® Italian hot chocolate recipes can be found at dolceviteforeveryoung.com/pages/chocolatto-recipes.
View "Chocolatto® is Back!" music video on our website or youtube.com/watch?v=1xSx2XzTXdQ.
Restaurants and cafés interested in carrying Chocolatto® can email sales(at)dolceviteforeveryoung(dot)com or call 917-50-DOLCE (36523).