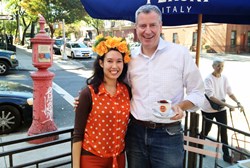 Bill de Blasio tasted Chocolatto and proclaimed, "It's Great!" showing his support for the upcoming local business.
New York City, NY (PRWEB) October 24, 2013
The much anticipated leading mayoral candidate of New York City Bill de Blasio is well known in his longtime family oriented neighborhood of Park Slope, Brooklyn. Iconic bold red and white signs supporting de Blasio's candidacy adorn the windows of shops and restaurants lining the main streets. Christina Summers founder of Dolce Vite Chocolatto a popular new drink/dessert that is THICK Dark Italian Hot Chocolate Cocoa met with de Blasio at a local favorite Italian restaurant Bar Toto. Bill de Blasio tasted Chocolatto and proclaimed, "It's Great!" showing his support for the upcoming local business.
Chocolatto®, Thick Dark Italian Hot Chocolate Cocoa, is unlike regular hot chocolate cocoa, due to its thick pudding like consistency, no GMOs (genetically modified organisms), no preservatives, no artificial colors or flavors, less sugar, low caffeine content, and vegan ingredients. Dolce Vite Chocolatto® can be customized into many fabulous thick hot chocolate recipes.
Supporting small business is top priority for de Blasio. Excerpt below from Bill de Blasio for Mayor website, billdeblasio.com/issues/jobs.
"Helping Small Businesses. As Public Advocate, Bill de Blasio issued two reports documenting, for the first time, the incredible burden on small businesses from the rapid rise in fines. After suing the city to obtain never-before-seen data, de Blasio proved what many business owners have witnessed for years: an unannounced revenue-driven enforcement campaign begun in 2010 has led to a dramatic increase in inspections and nuisance fines on small businesses, particularly in the outer boroughs. Bill de Blasio proposed a five-point plan for rational enforcement, based on public safety — not the drive to boost city revenue at the expense of small businesses."
"Preparing Every Student for Success in College and Career" is another concern of de Blasio. "Our education system is at a crossroads. With a stubbornly persistent achievement gap and low college readiness rates, we must rapidly work to improve our schools. Currently, only 23 percent of New York City high school students are prepared for college or a career." Source billdeblasio.com/issues/education.
The Dolce Viten Young Entrepreneur Program is the premier young entrepreneur program. It is a fantastic opportunity for young entrepreneurs pursuing business to learn about entrepreneurship and earn money in a way relevant to their studies, rather than traditional college & high school jobs. College & high school are not giving students interested in business enough real world tools and we are here to fill that gap. Dolce Vite® is currently accepting applications. Learn more here: dolceviteforeveryoung.com/pages/dolce-vite-young-entrepreneurs.
Dolce Vite Chocolatto® - make it thick, stay forever young.
About Dolce Vite® LLC
Dolce Vite® is based in Brooklyn, NY and founded by Christina Summers on the principles of the clean-food diet. "Americans are demanding quality food, and Chocolatto® is the Mercedes of the hot chocolate cocoa world." Find out more at dolceviteforeveryoung.com and facebook.com/DrinkDolceVite and twitter.com/DrinkDolceVite and youtube.com/DolceViteNYC.
Chocolatto® Italian hot chocolate recipes can be found at dolceviteforeveryoung.com/pages/chocolatto-recipes.
View "Chocolatto® is Back!" music video on our website or youtube.com/watch?v=1xSx2XzTXdQ.
View "Sexy Spoon Man Chocolatto® Orange!"
youtu.be/E6hx4K1Pogc
Restaurants and cafés interested in carrying Chocolatto® please email sales(at)dolceviteforeveryoung(dot)com or call 917-50-DOLCE (36523).