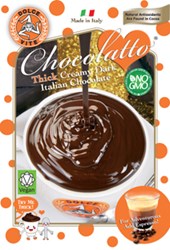 Dolce Vite Chocolatto® has its lineage from Royal European Society.
New York City, NY (PRWEB) November 30, 2013
Dolce Vite Chocolatto® Best Thick Italian Hot Chocolate is now available for home consumption from the Park Slope Food Coop located at 782 Union Street, Brooklyn, NY 11215. Sold in single serving packets for freshness, Chocolatto® can be made on the stove top with constant stirring till boiling, if an espresso machine is not available. For a vegan treat use soy or nut milk, or water. Share this delicious Thick Italian "Spoonable" Hot Chocolate with family or friends on a cold winters evening and revel in its royal heritage.
Chocolatto® has its lineage from Royal European society. Revered for its medicinal and aphrodisiac qualities thick hot chocolate soon was a popular drink of the upper class after cacao arrived in Europe in the 16th century.
The first chocolate beverage is believed to have been created by the Mayans around 2,000 years ago, and a cocoa beverage was an essential part of Aztec culture by 1400 AD. The beverage became popular in Europe after being introduced from Mexico in the New World, and has undergone multiple changes since then. Until the 19th century, hot chocolate was even used medicinally to treat ailments such as stomach diseases. Today, hot chocolate is consumed throughout the world and comes in multiple variations including the very Thick Creamy Italian Hot Chocolate, Chocolatto®. Chocolatto® can also be customized into many different Thick Creamy Italian Hot Chocolate Recipes.
Dolce Vite® started on a philosophy called the "Dolce Vite® Bottom Line", "dolce vite" means "the sweet lives", which measures success not only economically but socially as well. Dolce Vite® provides Chocolatto® lovers a happy & healthy treat. The Dolce Viten Young Entrepreneur Program provides a safe training ground for their future success.
The Dolce Viten Young Entrepreneur Program is The Premier Young Entrepreneur Program. It is a fantastic opportunity for young entrepreneurs pursuing business to learn about entrepreneurship and earn money in a way relevant to their studies, rather than traditional college & high school jobs. College & high school are not giving students interested in business enough real world tools and we are here to fill that gap. Dolce Vite® is currently accepting applications. Learn more here: dolceviteforeveryoung.com/pages/dolce-vite-young-entrepreneurs.
Dolce Vite Chocolatto® - make it thick, stay forever young.
About Dolce Vite® LLC
Dolce Vite® is based in Brooklyn, NY and founded by Christina Summers on the principles of the clean-food diet. "Americans are demanding quality food, and Chocolatto® is the pinnacle of the Best Thick Dark Italian Hot Chocolate."
Find out more at dolceviteforeveryoung.com and facebook.com/DrinkDolceVite and twitter.com/DrinkDolceVite and youtube.com/DolceViteNYC.
Chocolatto® Thick Creamy Dark Italian Hot Chocolate Recipes can be found at dolceviteforeveryoung.com/pages/chocolatto-recipes.
View "Chocolatto® is Back!" music video on our website or youtube.com/watch?v=1xSx2XzTXdQ.
View "Sexy Spoon Man Chocolatto® Orange!" youtu.be/E6hx4K1Pogc
Restaurants and cafés interested in carrying Chocolatto® please email sales(at)dolceviteforeveryoung(dot)com or call 917-50-DOLCE (36523).