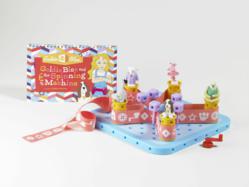 San Mateo, CA (PRWEB) July 01, 2013
Talbot's Toyland is proud to announce they are now carrying the GoldieBlox line of educational toys and enrichment tools for young girls.
The GoldieBlox product is designed to work with a young girl's natural inclination toward storytelling and problem solving and mixing this innate quality with a toy that includes hands-on learning. Creator, Debbie Sterling is a Stanford-educated engineer who launched the Oakland-based toy company in 2012 to spark young girls' interest in engineering.
The GoldieBlox product has been in the news, including on SFGate.com, as the toy is designed to encourage girls' interest in math and science through a a toy that blends storytelling, imagination and creativity. GoldieBlox offers a much-needed female engineer role model who is smart, curious and accessible. Read more of the SFGate.com article http://www.sfgate.com/business/article/GoldieBlox-helps-get-girls-into-engineering-4264633.php.
The intention of the product is to nurture a generation of girls who are more confident, courageous and tech-savvy, giving them a real opportunity to contribute to the progress made by engineers in society.
Talbots is continuing in their trend of carrying innovative toys for the Bay Area, and also their support of local Bay Area innovators and toy makers. The store is located at 445 South B Street in San Mateo. For more information, please visit their website at http://www.talbotstoyland.com.
About the company:
Talbot's Toyland has been serving the Bay Area with toys, puzzles, games, etc. since1953. Back then, Betty and Lank Talbot started the Peninsula's and Bay Area's finest toy store, Talbot's Toyland. Today, Talbot's has grown to over 30,000 square feet, specializing in high quality unique children's games, toys, hobbies, bicycles and baby dolls; become a destination for children of all ages. With an emphasis on superior customer service, knowledgeable sales staff and a broad selection of toys, Talbot's has helped dreams come true for over 50 years. For more information, visit the Talbot's Toyland website.