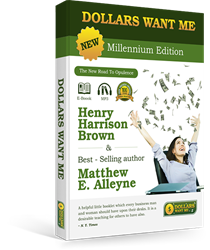 Let me teach you something you didn't know you needed to know" – Matthew E Alleyne
(PRWEB) May 11, 2015
This latest title to be released by Matthew is aimed at helping people learn how to attract everything they want in life and become happy and prosperous in the process.
Based on the original Dollars Want Me, by Henry Harrison Brown, Alleyne has updated and modernized this unique concept for the world today.
Matthew envisioned the idea to modernize Dollars Want Me: The New Road to Opulence and create a revolutionary course after his dear friend KJ introduced the philosophy of Henry Harrison Brown to him in the summer of 2014.
Something resonated in him, and he felt it was his calling to get these time proven and little known words out to people globally. Matthew believes that Henry did not get the recognition he deserved, and that his words were lost in time.
The book is designed to help people to change the way that they think in order to attract the wealth and happiness that they have always wanted. Readers will learn about the power of their thoughts and how influential they are on every aspect of their lives.
The book uses the concept of affirmations to change thoughts and thought processes. Affirmations are little sentences which are repeated during each day to affect the conscious and subconscious mind. When positive affirmations are repeated often, they embed themselves into our minds helping to form new thought patterns.
Along with the EBook and audiobook, there is also a 7-day action guide Ebook which helps readers to learn how to use affirmations and understand the power of their thoughts.
Matthew E. Alleyne, "The Results Coach," is a serial entrepreneur, best-selling author, personal development and business coach. Matthew has always had an uncanny ability to help people to create more wealth and has spent 25 years helping people and companies become successful.
For more information about Dollars Want Me: New Millennium Edition, please visit http://www.alleyne.no or please feel free to contact Matthew E. Alleyne direct for a copy of the book for evaluation – matthew(at)alleyne(dot)no.