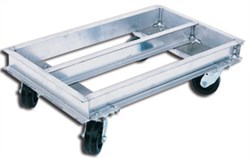 The Aluminum Channel Dolly is a customer favorite and has been for many years
New York, NY (PRWEB) August 11, 2013
A Plus Warehouse enjoys having a product of the day. It gives the company the chance to highlight one item in a list of hundreds. With such a broad selection, it gives customers a sense of relief to hear about one particular item. Today's product of the day is the Aluminum Channel Dolly. According to Ed Stairman, president of A Plus Warehouse, "The Aluminum Channel Dolly is a customer favorite and has been for many years. This is the reason why the company is showcasing this item today. The company would like to bring customers attention to an excellent product."
This product is obviously one of A Plus Warehouse's dollies. Dollies are an important line for the company. Dollies are by the most popular piece of material handling equipment offered. Using a dolly is much more efficient and safe than hauling packages by hand. Trying to lift a heavy load, employees often twist their backs and end up with permanent injuries. Dollies take the stress of the load off the person. Even Ed Stairman, president of A Plus Warehouse, has made the mistake of carrying a load without a dolly. On the way to a picnic with his lovely wife Robin and oldest daughter Carrie, Ed decided it would be best to carry all of the items for his picnic by hand. This ended up being a pain. Coincidently, Ed said, "I really wish I had a dolly right now." Ed learned from personal experience the importance of dollies. Customer shouldn't act as Ed did, so get a dolly today! Extra mobility is includes for four 5 X 8 phenolic swivel casters. Casters are also an extremely popular item at A Plus Warehouse. A customer needs casters in order to have a dolly.
As mentioned earlier, today's product of the day is the Aluminum Channel Dolly. This dolly is lightweight having a capacity of 2,000 pounds. This item would have been perfect for Ed's picnic. This product is designed for personnel to conveniently pick up and carry to a destination. This item is also available in three different sizes. A Plus Warehouse hopes that this article got customers interested in the various types of dollies.
A Plus Warehouse is the operator of http://www.apluswhs.com and distributes materials handling and storage equipment nationwide and throughout Canada. The sales staff at A Plus Warehouse is available at 800-209-8798. A Plus Warehouse has been in constant operation since 1996.