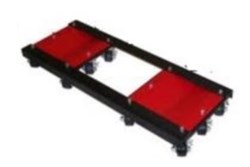 We are happy to now have heavy duty giant dollies available to customers. Customers will love the massive 8,000 pound capacity
Olympia, Washington (PRWEB) September 17, 2013
It is that time of day again to discuss the product of the day. For customers unfamiliar with product of the day, A Plus Warehouse picks an item everyday including weekends without fail to discuss for the day. These products normally stand out from other products and have some intriguing quality. Today's product of the day is not only different from other products, but it is new as well. A Plus Warehouse also enjoys announcing new products. The company keeps up to date with the latest trends. Yes, there are trends even in materials handling. New products keep A Plus Warehouse young and fresh. It is with great pleasure that the company announces heavy duty giant dollies as product of the day. Ed Stairman, president of A Plus Warehouse states, " We are happy to now have heavy duty giant dollies available to customers. Customers will love the massive 8,000 pound capacity." As Ed mentioned, this product has a very large capacity. In fact, it is the largest capacity dolly the company has to offer. Obviously, this product falls under A Plus Warehouse's dolly line. Read on to learn more!
Dollies are needed in warehouse operation. Although from appearance this item may seem small, it does a big job. There is time when human strength is not enough to move an object. For example, even a professional body builder will have a hard time moving a vehicle. However when using a dolly this process is easy. Of course a customer would need to have a dolly with the right capacity, but the point is that dollies move items that would otherwise be impossible.
The heavy duty giant dolly is a dolly that stands out. It is actually composed of two different dollies. A picture of this item is shown to the right. The two dollies are separated by heavy metal angle pieces. This rugged dolly is available from 3 to 7 feet. Other sizes are also available upon request. Longer units can be fabricated with additional dollies and stronger metal spreaders. Most importantly, this amazing dolly has an 8,000 pound capacity. Capacities this high are unheard of. This is about the weight of two cars. Customers should order this heavy duty dolly today.
A Plus Warehouse is the operator of http://www.apluswhs.com and distributes materials handling and storage equipment nationwide and throughout Canada. The sales staff at A Plus Warehouse is available at 800-209-8798. A Plus Warehouse has been in constant operation since 1996.