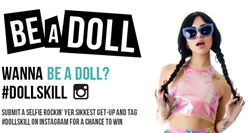 It was only natural to take it to the next level and make one of these girls a Dolls Kill model.
San Francisco, California (PRWEB) August 23, 2013
Dolls Kill, an online boutique, is excited to announce that they are launching their newest and biggest international Doll search via Instagram. The Be A Doll contest shows the edgy street fashion of Dolls Kill that includes brands like Wildfox Couture, Brian Lichtenberg and Cheap Monday, on actual customers.
By posting a selfie on Instagram with the hashtag #DOLLSKILL you are automatically entered. The winner gets an all-expense paid trip to the Dolls Kill headquarters in San Francisco, California, where they will get the full treatment of a professional fashion shoot. They will be the face of Dolls Kill and additionally will receive a new wardrobe. Every week starting August 12th, 2013 through November 22th, 2013 a finalist will be selected. Each weekly finalist will also receive a $100 gift card to Dolls Kill. The grand prize winner will be announced on November 29th, 2013.
"We get hundreds #DOLLSKILL Instagram pictures a day through our current Be A Doll program, that shows our community of Dolls rockin their style," stated Shoddy Lynn of Dolls Kill. "It was only natural to take it to the next level and make one of these girls a Dolls Kill model. With Instagram and Olapic we are able to do this in big way."
Anyone interested in Being a Doll should visit the website and follow us on Instagram @dollskill.
For more information, please visit http://www.dollskill.com
# # #
About Dolls Kill:
With an encouraged edge in personal style, Dolls Kill is a leading fixture in the society of praised rebellion. If you would rather give an enthusiastic "F YOU" than conform to the contrived styles of today's industry, then we've got you covered. Inspired by the perpetual revenge of young girl fantasy, Dolls Kill is an active subversion of the fashion industries "norm". Whether she is experimenting with fashion, music or sexual identity, the Dolls Kill customer can be seen aggressively fighting the higher power and unapologetically raising hell wherever she goes. Here is where you will find clothing inspiration pulled from the digital Tumblr girl world, bad acid trips, underground counterculture and stylized gutter punks. Navigate through the site and unleash your inner riot girl at an online shopping destination unlike anywhere else.