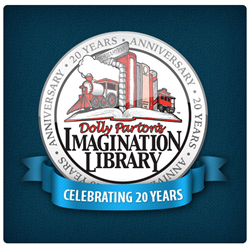 I am so excited that Dollywood is bringing back the celebrity concert series, and I'm honored that I get to be first. It's always great to play in my own backyard - Dolly Parton
Pigeon Forge, TN (PRWEB) April 23, 2015
As part of the celebration, Dolly announced plans to bring back Dollywood's "Showcase of Stars" concert series with all proceeds benefiting Imagination Library with a goal to raise $1 million. Dolly will kick off the concert series with four shows on August 8 and 9 in her all-new acoustic production, "Pure and Simple."
"I am so excited that Dollywood is bringing back the celebrity concert series, and I'm honored that I get to be first. It's always great to play in my own backyard, and I know all of my country music friends who are coming to do their concerts will love it as much as I do. So look for my show 'Pure and Simple' in August and help support my Imagination Library." - Dolly Parton
Dolly's Imagination Library launched in 1995 in Dolly's hometown community, Sevier County, TN. In 2000, it became available for replication across the United States. In 2006, the program launched in Canada and in the United Kingdom the following year. By 2010, Imagination Library had mailed 25 million books internationally. Audio and Braille books were added in 2011 and in 2013, the program launched in Australia.
Jeff Conyers is the Executive Director of Dolly Parton's Imagination Library. Conyers is excited about the 20-year celebration and the program's future goals as well:
"We are thrilled to celebrate our 20th anniversary. The program has been blessed with the support of thousands of affiliates and partners and, of course, the tireless work of Dolly Parton."
Today the program continues to forge new partnerships and reach even more children around the world by mailing more free books to children in 2015 than ever before in the history of the program. This will bring the end of year grand total to over 70 million books mailed.
About Dolly Parton's Imagination Library:
Since launching in 1995, Dolly Parton's Imagination Library has become the premier early childhood book gifting program in the world by mailing over 66 million books in Australia, Canada, United Kingdom and the United States. Currently the program mails over 830,000 specially selected, age appropriate books monthly to registered children from birth to age five. Dolly's vision was to create a lifelong love of reading, prepare children for Kindergarten and inspire them to dream more, learn more, care more, and be more. Multiple independent studies suggest participation in the Imagination Library program is positively and significantly associated with higher measures of early language and math development.